'Kingsman: The Golden Circle' VFX Breakdowns: Robot Arm, Beauty Bot & Poppy's Jungle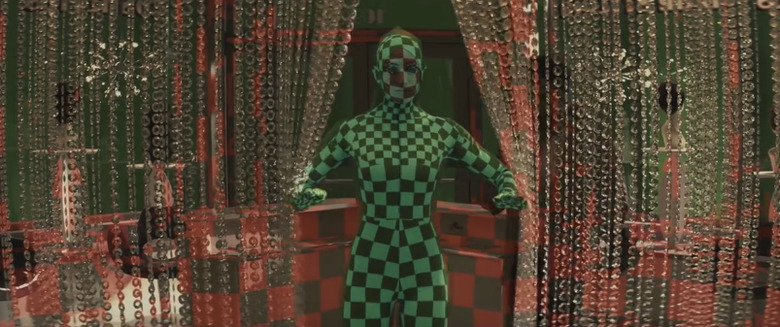 We may receive a commission on purchases made from links.
Kingsman: The Golden Circle may not be the height of realism in action filmmaking, but when it comes to the visual effects, there's some impressive work done to bring the world of violent spies to life in Matthew Vaughn's comic book adaptation.
Since it's awards season, all of the visual effects houses are showing off the extensive work that went into the various blockbusters releases in 2017. Kingsman: The Golden Circle is no exception, and Imageworks has delivered a batch of visual effects breakdowns for a few prominent visual effects creations that appear throughout the movie.
Check out the Kingsman: The Golden Circle visual effects breakdowns below.
The first visual effects breakdown takes a closer look at the creation of the robotic arm given to Charlie Hesketh (Edward Holcroft), the former Kingsman trainee who lost his arm and vocal cords during the Valentine incident from the first movie. He gets a powerful, weapon-laden arm that proves to be quite a formidable threat to Eggsy throughout the movie.
Next up, villain Poppy Adams (Julianne Moore) has placed her hideout in the middle of Cambodia. Like most spy villains, her hideout is a bit obnoxious, this time in the form of a 1950s style amusement parked dubbed Poppy Land, complete with a retro diner and a theater with Elton John performing on-demand. Plenty of that set was created entirely in post-production and this video shows how.
Finally, though there were plenty of robotic creations in this movie (including some robotic dogs), one of the more prominent visual effects was the Beauty Bot who worked at Poppy Land. Not only did she take care of the various nefarious bad guys coming through the door, but she gets into the action in one of the climactic battles. It seems like it might have been easier (and maybe cheaper) to just put an actor in make-up and create the robot effect only partially in visual effects, but apparently not.
Kingsman: The Golden Circle is available now on digital download and Blu-ray/DVD right now.