Paul Thomas Anderson Loves 'Big Daddy', And More Facts We Learned From A New Interview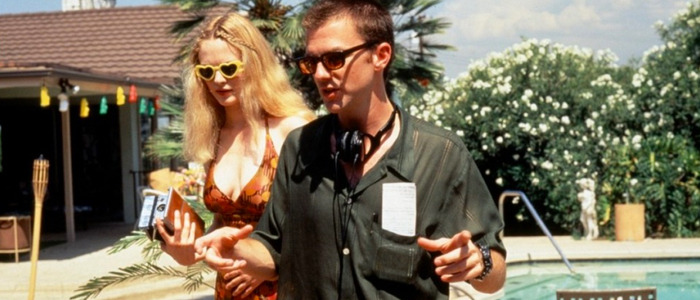 Paul Thomas Anderson's Phantom Thread is now playing in select cities, and pretty soon, it'll be everywhere. In anticipation of the film's release, Anderson sat down with The Ringer podcast and took a journey through his career and his approach to filmmaking in general. In the revealing interview, Anderson dishes on his thoughts on trailers, working with actors like Tom Cruise and Adam Sandler, and sets the record straight on some Boogie Nights urban legends..
Paul Thomas Anderson, the supremely talented filmmaker behind Boogie Nights, There Will Be Blood, The Master and many more, stopped by The Ringer's Bill Simmons podcast to chat with Simmons and Ringer editor-in-chief Sean Fennessey to promote Phantom Thread. The interview results in some rather revealing insights from Anderson. Also, every now and then, you can hear the acclaimed director chewing on something that's either candy or a cough drop – I'll let you decide. Have a listen!
The podcast is long, so if you don't have time to listen to the whole thing at the moment, I went ahead and wrote down some highlights, because that's the kind of guy I am. You're welcome.
Anderson On Trailers 
During the interview, you can tell the hosts really want Paul Thomas Anderson to voice his displeasure with movie trailers, but Anderson is having none of it. When one host points out that modern movie trailers give too much away, Anderson is quick to reply that early movie trailers from the 1930s onward were even worse, giving almost entire storylines away. It's only recently that audiences have become so angry about the prospect of spoilers. The filmmaker also reveals that he has a say in editing his own trailers, which isn't always common practice for films – more often than not, studios handle trailer editing on their own, with little to no insight from the filmmaker. "I love trailers, I grew up loving trailers – loving the good ones," Anderson says, and when pressed to name his all-time favorite movie trailer, the filmmaker picks the trailer for Stanley Kubrick's The Shining, which featured the infamous scene of blood pouring out of a pair of elevator doors. While the focus of the conversation is primarily about good movie trailers, Anderson says bad trailers have their place too. "There are some really shitty trailers," says the filmmaker, "and those can be just as much fun as the good ones."
Boogie Nights Urban Legends 
Several urban legends swirl around the making of Anderson's Boogie Nights. One legend said that both Leonardo DiCaprio and Mark Wahlberg were vying for the role of Dirk Diggler, a part that went to Wahlberg. "Not true," Anderson says, clarifying that while DiCaprio was offered the part, the actor turned it down. Anderson is still a big fan of DiCaprio, though, and really wants to work with the actor some day. When the hosts press Anderson to make this dream a reality, Anderson confidently replies, "It'll happen."
Another Boogie legend involved a story about Anderson and star Burt Reynolds coming to actual blows over a scene. Anderson says that that story is "almost" true. The filmmaker reveals that while the majority of the film shoot was "fun", there were a few days when things got tense, and this was during filming of the tenser moments of the film. Anderson thinks that the tense atmosphere of the scenes they were filming simply infected the atmosphere on the set. Anderson also reveals that he originally wanted Jack Nicholson for the part Reynolds played, but Nicholson refused to read the script.
DVD Commentaries
Some filmmakers are very hesitant to partake in DVD or Blu-ray commentaries of their films, preferring instead to let the films speak for themselves. Steven Spielberg, for instance, is no fan of the concept of commentary tracks. But Anderson says he loves them, while also stressing that they've become "too polished" at this point. Before the commentaries can be recorded, the participants now have to sign waivers and stress that their thoughts are their own and do not reflect the studio producing the film. Anderson also says that sometimes when you go to do a commentary, you've already seen the film hundreds of times and are sick of it. One suggestion he puts forth for a fresh take on a directors commentary would be to record the commentary while editing the film, so the thoughts are more fresh.
Tom Cruise and Adam Sandler
Both Tom Cruise and Adam Sandler are actors who worked outside of their comfort zones in Anderson films – Cruise as a misogynistic self-help guru in Magnolia, and Sandler as an emotionally unstable plunger salesman in Punch-Drunk Love. While these were atypical parts for the actors, they also each delivered one of the best performances of their respective careers. Anderson says he worked with these two actors simply because he enjoys their films. "Cruise is the fucking king," says Anderson "I love watching those Mission: Impossible movies." When the hosts point out that it seems time for Cruise to trade in his action movie status for a more dignified, mature performance, a la Paul Newman in The Verdict, Anderson shoots back, "Don't bet against Cruise."
As for Sandler, Anderson says, "I particularly loved Big Daddy and Happy Gilmore," a revelation I'm sure will make several heads on Film Twitter explode. Anderson goes to compliment Sandler's appearance as he ages: "He's so good looking now as he gets older."
The Master is Supposed to be Funny 
The Master, Anderson's fantastic film about a destructive relationship between two damaged men, is full of dark, brooding, disturbing moments. But it's also supposed to be funny – a fact that Anderson worries was lost on the audience. "I found The Master to be very very funny," he says, "but somewhere along the way we didn't get the laughs." Anderson goes on to say that when someone is so serious, so dedicated to what they believe, he finds that very funny – to Anderson, every pompous, self-serious thing that Philip Seymour Hoffman says in the film is hilarious.
Overall, this is an entertaining interview, and gives the listener a unique insight into one of the best working filmmakers today. Phantom Thread, Anderson's latest film, is now playing in select cities. It opens January 19, 2018 everywhere.