'The Post' Featurette: Meryl Streep And Tom Hanks Make A Powerhouse Duo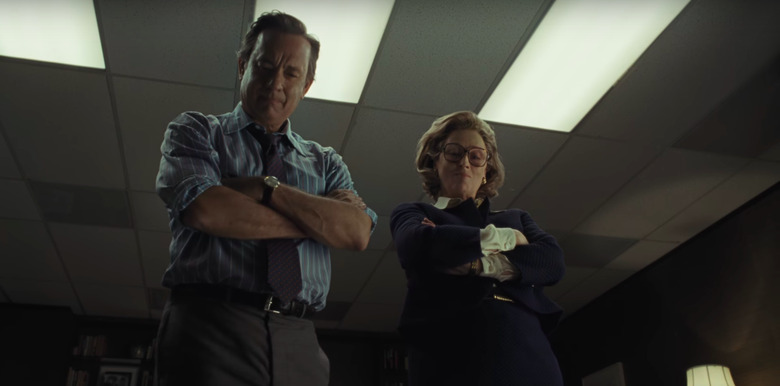 The Post is about a historic, monumental collaboration between masters of their crafts, whose work has changed the world time and time again. It's also about how the Washington Post went up against the federal government to bring the Pentagon Papers to the public.Tom Hanks, Meryl Streep, Steven Spielberg – names that elicit awe and wonder. And the fact that these three names are all behind The Post...well, that's just dandy. More than dandy, it's one for the history books. And the marketing team for the new drama knows how much power these three names have together, highlighting this rare on-screen pairing between Hanks and Streep and Streep's first time working with Spielberg.
The Post Featurette
It's astonishing that in Streep and Hanks' illustrious 30-plus careers — the two of them winning multiple accolades for being two of the foremost actors of their generations — that they never shared the screen before now. It's even more astonishing that Streep has never worked with master director Steven Spielberg either, despite building up a reputation as the greatest actress of her generation. But there's no better time like the present, and seeing Hanks and Streep go toe-to-toe, as Washington Post editor Ben Bradlee and Post publisher Katharine Graham respectively, for the first time is some kind of magic.
In The Post featurette, Streep, Hanks and Spielberg alternately gush over each other and their work, with Streep clearly excited to be working with the two of them for the first time, and Hanks and Spielberg echoing that sentiment.
"I had Tom Hanks for our fifth film together in our actor-director partnership," Spielberg said in the featurette. "And for the first time, Meryl Streep and Tom Hanks have ever acted together. That was an honor to witness."
Here is the official synopsis for The Post:
Katharine Graham is the first female publisher of a major American newspaper — The Washington Post. With help from editor Ben Bradlee, Graham races to catch up with The New York Times to expose a massive cover-up of government secrets that spans three decades and four U.S. presidents. Together, they must overcome their differences as they risk their careers — and very freedom — to help bring long-buried truths to light.
The Post is currently in select theaters.