Superman Prequel 'Krypton' Premiere Date Revealed Along With A New Image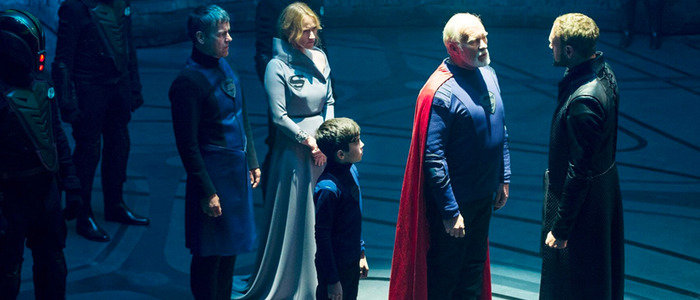 Not content to simply tell a Superman origin story, Syfy's Krypton will take things back two whole generations into Superman's lineage. The new series focuses on past events set on the Man of Steel's doomed planet and follows Superman's grandfather Seg-El. A new promo video reveals the Krypton premiere date for 2018, and a new image gives us a glimpse of the series to come.
Man of Steel screenwriter David S. Goyer has helped develop Krypton, a new Syfy series that focuses on the early days of Superman's home planet, and tells the story of Seg-El, grandfather to Kal-El (aka Superman). Why didn't they call this show Superman's Grandpa? Alas, we'll have to settle for the Krypton title, as the show's premiere date is close at hand.
Speaking of which, a new promo video uploaded to the show's Twitter account has finally revealed the Krypton premiere date: March 21, 2018.
Before #Superman came to Earth, #Krypton forged its own legends.

From the writer of #ManofSteel & #TheDarkKnight, witness the beginning, 3.21 on @SYFY. pic.twitter.com/kYZsfr3N3c

— Krypton (@KryptonSYFY) December 28, 2017


Krypton stars Cameron Cuffe (Florence Foster Jenkins) as Seg-El and Georgina Campbell (Broadchurch) as Lyta Zod, an ancestor of Superman nemesis General Zod. As bad luck would have it, Seg-El and Lyta Zod are in a forbidden relationship – think of this like Romeo and Juliet, but with capes. The series also stars Ian McElhinney (Game of Thrones), Elliot Cowan (Da Vinci's Demons), Ann Ogbomo (World War Z), Rasmus Hardiker (Your Highness), Wallis Day (Will), Shaun Sipos (Texas Chainsaw) and Aaron Pierre.Krypton will focus on Seg-El's struggle to redeem his family and save his planet from chaos. Syfy reveals the show will also feature a subplot involving "Earth-based time traveler Adam Strange (Shaun Sipos), who will warn [Seg-El] that "he's under the clock to save his beloved world from chaos." Of course, we all know how this story turns out – the planet goes boom and Superman ends up on earth. But that doesn't mean we can't enjoy the journey that gets us there.
Here's the official Krypton synopsis.
Set two generations before the destruction of the legendary Man of Steel's home planet, Krypton follows Superman's grandfather (Cameron Cuffe, The Halcyon) — whose House of El was ostracized and shamed — as he fights to redeem his family's honor and save his beloved world from chaos.
In addition to the official premiere date, Syfy released a new photo for the show, which reveals Krypton will be a series cloaked in lots of shadows and full of leathery outfits.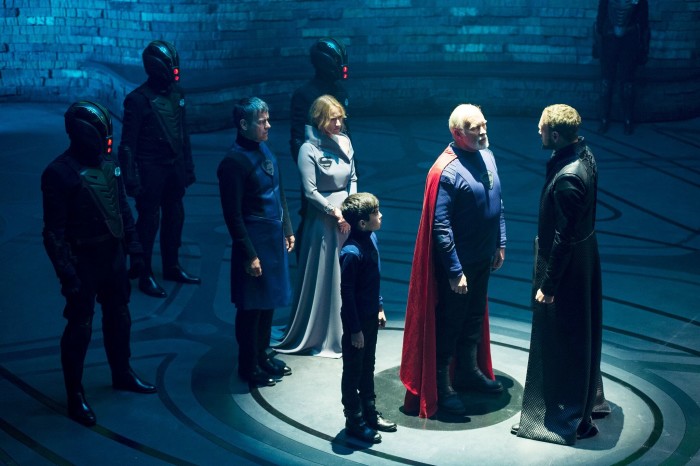 It's worth noting that in this pic, Game of Thrones actor Ian McElhinney, who plays Seg-El's grandfather (which makes him Superman's great-great-grandfather), is wearing the familiar Superman red-and-blue colors. One wonders what other familiar Superman connections will pop up through the show's run. We'll find out when Krypton premieres on March 21, 2018.