The 'American Crime Story' Season 2 First Look Reveals ''The Assassination Of Gianni Versace'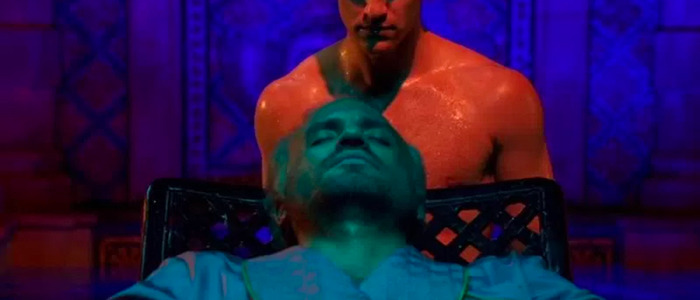 The Assassination of Gianni Versace, the latest season of FX's hit show American Crime Story, is likely to be one of 2018's most talked-about new TV shows. A new first look feature takes you behind-the-scenes of the series, which focuses on the murder of fashion designer Gianni Versace by spree killer Andrew Cunanan. Watch the new American Crime Story season 2 first look below.
In 1997, legendary fashion designer Gianni Versace was shot and killed on the steps of his Florida mansion by spree killer Andrew Cunanan. That murder, and the events that followed it are the focus of the latest season of American Crime Story, The Assassination of Gianni Versace. Based on the Maureen Orth book Vulgar Favors: Andrew Cunanan, Gianni Versace, and the Largest Failed Manhunt in U. S. History, the series stars Édgar Ramírez as Versace, Penélope Cruz as Versace's sister Donatella Versace, Ricky Martin as Versace's boyfriend Antonio D'Amico, and Darren Criss as Andrew Cunanan. A new American Crime Story first look takes you inside the production.
American Crime Story Season 2 First Look
In the video, Ramírez indicates that the show won't just be about the murder, but will also focus on making viewers "understand how the murder could've been avoided." Criss plays up the fact that the manhunt for Cunanan was the largest "failed FBI manhunt in history" – Cunanan had murdered several other people months before killing Versace, and law enforcement continually failed to capture him.
Nina Jacobson, the show's executive producer, reveals that when it comes to creating each season of American Crime Story, the showrunners are "interested in what makes this an American Crime; a crime America is guilty of, not just the characters we're exploring."
When American Crime Story was first announced as another production from the prolific Ryan Murphy, I wouldn't say I was very interested in it. I had assumed that based on the name and Murphy's involvement that the series would be like American Horror Story – in other words, I thought it was going to be a continuously over-the-top, and rather bad show. But the first season of American Crime Story, The People v. O. J. Simpson: American Crime Story, ended up being one of the best TV shows of 2016. It was the complete opposite of American Horror Story, and I found myself transfixed from beginning to end.
Will the new season of American Crime Story keep that momentum alive? It's hard to say. The footage on display in this first look feature looks a little more over-the-top than The People v O.J. Simpson, but I'll certainly give the new season a chance when it premieres January 17, 2018.