Cool Stuff: Get Drew Struzan's 'Back To The Future' Poster As An Official Screen Print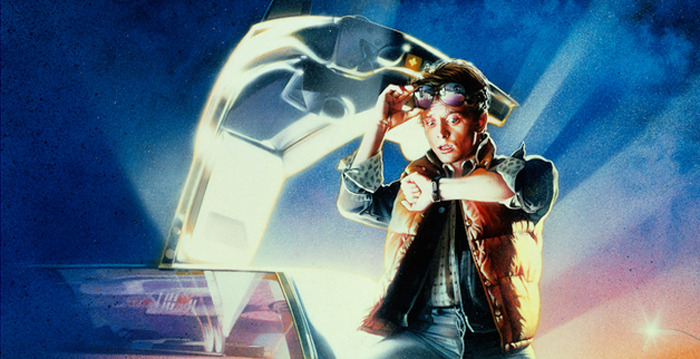 Drew Struzan is one of the most legendary poster artists of all time, and getting your hands on any official versions of his work, especially in the form of movie posters, can be not only pricey but difficult. Thankfully, Hero Complex Gallery is making it a little easier to get our hands on one of Drew Struzan's most iconic pieces of pop culture art.
An original double-sided Back to the Future movie poster goes for hundreds of dollars, and it's usually not in the best condition. But now you can get the next best thing in a much higher quality for a much lower price. Hero Complex Gallery is offering high quality screen prints of the original Back to the Future theatrical poster, and you can even get it signed by Drew Struzan himself.
You can get your hands on the Back to the Future one sheet version (left) or the art print version (right):
These aren't your average reprints of movie posters. The Back to the Future screen print was created from scans of the original painting Drew Struzan created for the original theatrical poster. Hero Complex Gallery also worked with Drew Struzan to have him approve all color palette decisions before printing, followed by multiple screen print tests to assure the best quality prints possible. The gallery says:
"Seeing these prints in person is like seeing the artwork in a whole new light...the vibrancy of the color palette plays at the artwork's original brightness in these newly screen printed posters, making them come alive on the page. If you look at the image above you'll see the beautiful blues play in a way you've probably never seen before, and the vibrancy in person is even more than we could have hoped for....we hope you cherish them as much as we do."
Both the one sheet version and the art print version will cost you $135 each. That's a little salty, but the quality will be well worth it. Plus, the good news is you have some time to mull over the purchase in your head. This release will be a timed version that is on sale until midnight on January 15, 2018. However many prints are ordered by that time, that's how many will be printed, and that's it. Plus, if you're feeling saucy, you can pay an extra $50 to have your print signed by Drew Struzan.
Head over to the Hero Complex Gallery website to make your purchase now.