How Guillermo Del Toro Made 'The Shape Of Water' For Less Than $20 Million; Watch A Fish-Man Featurette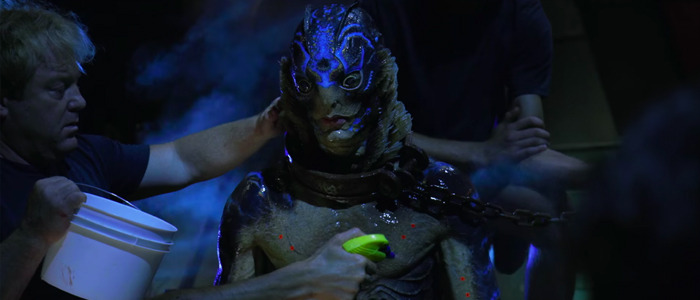 Guillermo del Toro has been a household name for genre lovers for years, but with his 1960s-set movie The Shape of Water earning critical acclaim and big awards buzz, he's back in the mainstream spotlight. The Shape of Water is one of the most visually beautiful movies you'll see this year – but del Toro used some creative workarounds to make the film look like it was made for $50 or $60 million when in reality it was completed for less than $20 million.
In a new interview, hear in his own words how Guillermo del Toro made The Shape of Water into one of 2017's most lush and wondrous cinematic experiences on a budget. And if you're not concerned with the business/financial side of the equation, we have you covered with a featurette dedicated to the creation of the movie's sexy fish-man. Something for everyone!
/Filmcast host David Chen pointed out that del Toro was a guest on a recent episode of KCRW's The Business, where the director told host Kim Masters about how he used a clever cinematic trick to craft shots that look like they take place underwater:
"I decided early on that the scenes underwater that needed more control, like the opening and closing of the movie – which are almost balletic – I could not build sets that size on a tank...so I unearthed a very old technique that I used when I was an effects technician in my twenties that is called 'dry for wet.' That is, you shoot these scenes with the people and the props and the furniture suspended on wires, you fill the stage with smoke, and you project what is called light caustics, which is the light of the water, through a projector. And you shoot it in slow motion. And it looks like under water. You add a bubble here, a bubble there, a little bit of debris with the computer and you erase the wires, and use a fan to move the cloth as if it was underwater. That way I had beautiful images on a budget."
The entire KCRW interview is very much worth a listen if you're a del Toro fan – and even people who don't love his movies know he's great at great talking about making movies. But I wanted to highlight one other way he saved a tremendous amount of money making The Shape of Water that he mentioned at a Q&A we wrote about last month: he used a lot of the sets and crew from his FX vampire series The Strain.
GDT: [Producer J.] Miles [Dale] came up with a brilliant idea, because the budget was so tight all through the movie. We were doing The Strain, and one of the ideas was to time the movie to shoot in between seasons and utilize the same stages that The Strain has and some of the metal structures of the sets of The Strain. And keep continuity with the entire crew of The Strain – wardrobe designer, production designer, set decorators. That was brilliant, because that way we were getting all of the momentum of The Strain, and we would keep the sets for them, keep an eye on them by doing a movie, and since it was Fox and FX, that was doable. But we got easily a couple of million dollars worth of studio space [out of it].
And finally, as promised, here's the featurette about the movie's sexy fish-man, played by actor Doug Jones. I was shocked to hear how little time (relatively speaking) it took for him to get in and out of that make-up, and watching this just made me even more confused and disappointed that the film was snubbed in the best make-up category for the upcoming Academy Awards.
The Shape of Water is in theaters now.