'Paddington 2' Trailer: The Lovable Bear Goes To Jail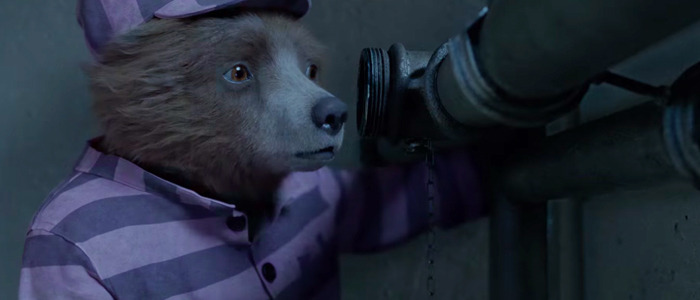 "If we're kind and polite, the world will be right," the titular talking bear declares in this new Paddington 2 trailer. That's a heartwarming sentiment I think we can all get behind right now, and this delightful new trailer about a marmalade-loving bear who just wants to buy his aunt a nice birthday present is a great way to refresh your spirits after a pretty dismal year. There's an Indiana Jones and the Last Crusade-style section in which we see Paddington's origin story, a villain disappear in a literal puff of smoke, a whimsical jailbreak, and much more, so don your best floppy red hat and check out the trailer below.
Paddington 2 trailer
Don't you feel a little better inside after watching that? I do.
After that quick origin story bit that opens the trailer (with an adorable cub version of Paddington somehow eating a marmalade sandwich as he's being pulled from a river), we get a look at the be-hatted bear's pleasant life in London. He's excited about buying his Aunt Lucy a special gift: a one-of-a-kind pop-up book of the city. Trouble is, the villainous Phoenix Buchanan (Hugh Grant) wants the book for himself, and he ends up stealing it and framing Paddington for the crime. But since Paddington Goes to Jail sounds more like the title of an Ernest movie (look those up, millennials) and might not draw in the family audience these films aim for, we'll have to make do with Paddington 2.
In addition to the pleasant talking bear that's voiced by Ben Whishaw, this sequel contains an equally delightful human cast that includes Sally Hawkins, Jim Broadbent, Brendan Gleeson, Peter Capaldi, Richard Ayoade, Julie Walters, and more.
The much-anticipated sequel to the worldwide hit family film finds Paddington happily settled with the Brown family in Windsor Gardens, where he has become a popular member of the community, spreading joy and marmalade wherever he goes. While searching for the perfect present for his beloved Aunt Lucy's hundredth birthday, Paddington spots a unique pop-up book in Mr. Gruber's antique shop, and embarks upon a series of odd jobs to buy it. But when the book is stolen, it's up to Paddington and the Browns to unmask the thief...
Much like the mother bear pulling Paddington up from churning waters, Warner Bros. swooped in and saved this movie from the clutches of The Weinstein Company in the wake of the alarming news of prolific sexual misconduct from producer Harvey Weinstein. Paddington 2 will retain its original release date, and arrive in theaters on January 12, 2018.