'Bumblebee' Photo: Hailee Steinfeld Poses With Her Yellow Bug For The First 'Transformers' Spin-Off [Updated]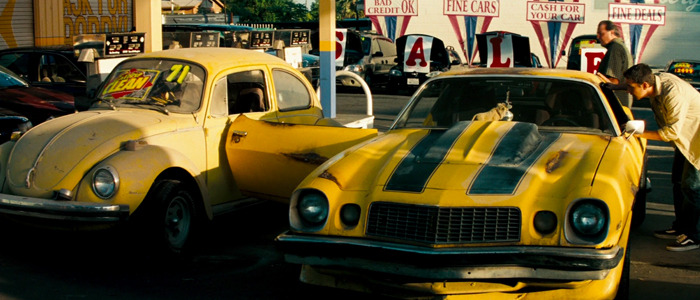 Update: A new high resolution version of the image has been released and we've added it below.
There's a section in the song "Rockin' Around The Christmas Tree" that describes everyone dancing "in the new old-fashioned way," and now the upcoming Bumblebee Transformers spin-off movie is putting its own spin on the concept of something being new and old-fashioned at the same time. A fresh photo from the film has emerged that showcases the title Autobot hero in his old-fashioned form as a yellow Volkswagen Beetle...but it's also new, because we haven't seen that character as anything other than a Camaro in a live-action Transformers movie yet. (Just go with me on this.)
Take a look at the new photo below, which also includes another look at the film's human star, played by Hailee Steinfeld.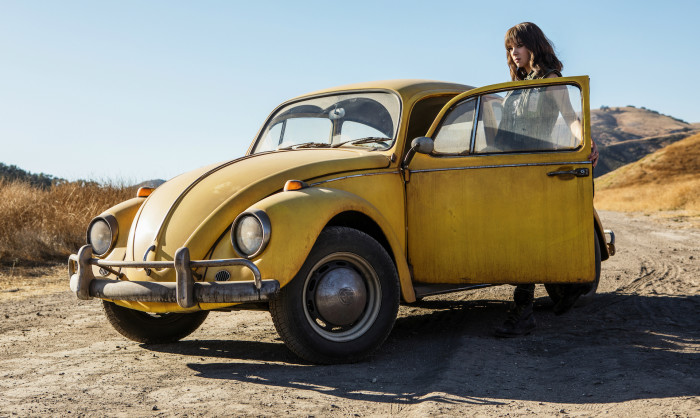 This will be the first live-action Transformers spin-off movie, and since it's set in the late 1980s, the fact that Bumblebee is in his original Beetle form – as he was in the original animated series from the same time period – is a cool little callback. This is the first "hero shot" of the character we've seen from the film, but we've known for a while that Bumblebee would be getting a retro refit this time around since photos of old Beetles emerged from the set this past summer.
Meanwhile, Hailee Steinfeld's mechanic character Charlie Watson stands beside her newfound friend. She's sporting a "1980s rock" vibe that goes along with our first look at her character, but this time she's wearing a vest (which is decidedly less rockin' than a Motorhead T-shirt). In any case, this photo raises an almost incalculable number of intensely important questions: What is she staring at in the distance? Is she getting in the car, or getting out? What song is blaring on Bumblebee's radio at this exact moment? WE MUST KNOW. But seriously folks...Transformers fans desperate for a coherent entry in this franchise would probably love the answers to those questions.
Here's the official synopsis:
On the run in the year 1987, Bumblebee finds refuge in a junkyard in a small Californian beach town. Charlie (Hailee Steinfeld), on the cusp of turning 18 and trying to find her place in the world, discovers Bumblebee, battle-scarred and broken. When Charlie revives him, she quickly learns this is no ordinary, yellow VW bug.
Bumblebee also stars John Cena, Jorge Lendeborg, Jason Drucker, Abby Quinn, Rachel Crow, Ricardo Hoyos, and  Gracie Dzienny, and it's directed by Kubo and the Two Strings filmmaker Travis Knight. The movie arrives in theaters just over a year from now, on December 21, 2018.