Final 'Den Of Thieves' Trailer Tries To Rob The Only Bank That's Never Been Robbed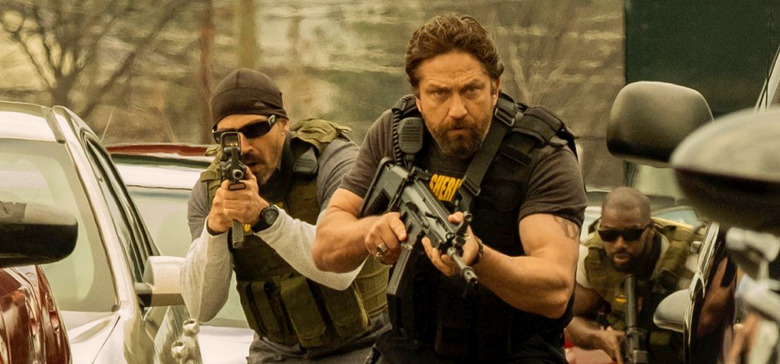 Bank heist movies are a dime a dozen in Hollywood. Every year there's a few new action thrillers built around that subject, and the first one out of the gate in 2018 is arriving pretty early.
Den of Thieves sees Gerard Butler as the leader of an elite unit of cops from the Los Angeles County Sheriff's Department who are desperate to stop a group of bank robbers who have left them out in the wind. With the crew planning to rob the Federal Reserve Bank in downtown LA, apparently the one bank than has never been robbed, this is the one opportunity they have to bust the crew for this job and all the others.
Den of Thieves Trailer
While this is undoubtedly the best trailer we've seen for this movie yet, it still doesn't appear to offer anything we haven't seen before in many movies that have preceded it. Yes, these cops are operating with a little less restraint than other units (for some reason that's not made clear in the trailer), and yes, this crew appears to be one of the best gang of robbers Los Angeles has ever seen. But beyond that, it's just planning the robbery, some taunting back and forth between the thieves and the cops, and the inevitable face-off with a cavalcade of gunfire.
Normally, it's the cast that makes a movie like this more interesting than it has any right to be. But in this case, they're not helping all that much. Gerard Butler has made some pretty awful movies in recent years and Curtis "50 Cent" Jackson hasn't exactly been seen in any acclaimed action thrillers. The presence of O'Shea Jackson Jr. is an interesting one, but it doesn't do much to make up for lack of instantly exciting actors around him. Maybe there's something here that we can only get by seeing the full movie. We'll find out next month.
Den of Thieves is a gritty Los Angeles crime saga which follows the intersecting and often personally connected lives of an elite unit of the LA County Sheriff's Dept. and the state's most successful bank robbery crew as the outlaws plan a seemingly impossible heist on the Federal Reserve Bank of downtown Los Angeles.
Den of Thieves hits theaters early next year on January 19, 2018.