Why Ridley Scott Would Never Direct A 'Star Wars' Film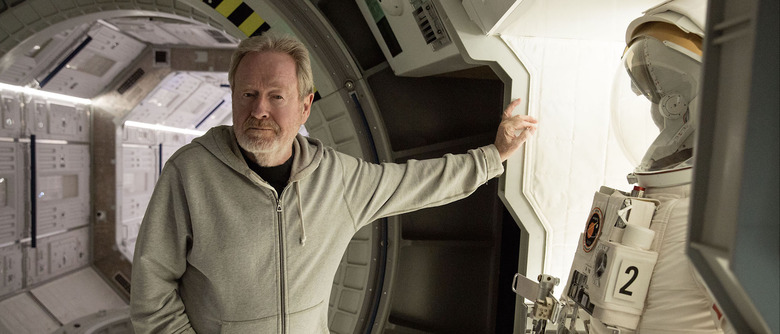 Ridley Scott is 80 years old and DGAF about your favorite science-fiction franchise.
Having helmed several iconic sci-fi franchises of his own (and still going strong), Scott is probably one of the few major directors in Hollywood today who doesn't get all googly-eyed when faced with the all-powerful Star Wars. And don't ask him if he'd want to direct a Star Wars film either — it's the last thing that both he and Disney would want to deal with.
Scott's recent candid and foul-mouthed interview with Vulture has bestowed upon us many gifts, including his honest take on Blade Runner 2049 and the logistics behind his bold move to replace Kevin Spacey with Christopher Plummer in All the Money in the World. But unexpectedly, Scott also had some choice words for Disney and the Star Wars movies that the studio oversees (along with a vast catalogue of franchises that now include Scott's own Alien series, should the big Fox deal go through).
It started with an innocent question from Vulture reporter Kyle Buchanan over whether he would consider taking the helm for a Star Wars film. But Scott being Scott, he gave this unexpected response: "No, no. I'm too dangerous for that."
Dangerous? What could Scott possibly mean by that?
He continued:
Because I know what I'm doing. [Laughs.] I think they like to be in control, and I like to be in control myself. When you get a guy who's done a low-budget movie and you suddenly give him $180 million, it makes no sense whatsoever. It's fuckin' stupid. You know what the reshoots cost?
Millions! Millions. You can get me for my fee, which is heavy, but I'll be under budget and on time. This is where experience does matter, it's as simple as that! It can make you dull as dishwater, but if you're really experienced and you know what you're doing, it's fucking essential. Grow into it, little by little. Start low-budget, get a little bit bigger, maybe after $20 million, you can go to $80. But don't suddenly go to $160.
In case you missed it, Scott squeezed in an indictment of Disney and Lucasfilm's practice of hiring plucky indie directors to helm their Star Wars films, a brutally honest description of the pitfalls of hiring inexperienced directors, and a dressing down of the Hollywood studio system in less than 150 words. Ridley Scott: all-around badass who is old enough and powerful enough to say whatever the hell he wants.
It's true that Disney and Lucasfilm have taken to hiring ambitious, green directors who they can guide with a controlling hand, but only Scott would go so far as to explicitly say as much. It's one of the reasons that Phil Lord and Chris Miller, with their weird comedic take on Han Solo, were fired from Solo: A Star Wars Story. And it's one of the reasons that an efficient, visionary director like Scott could never work within the well-oiled Lucasfilm and Disney machine.