The Amazing Character Actors Who Dominated Cinema In 2017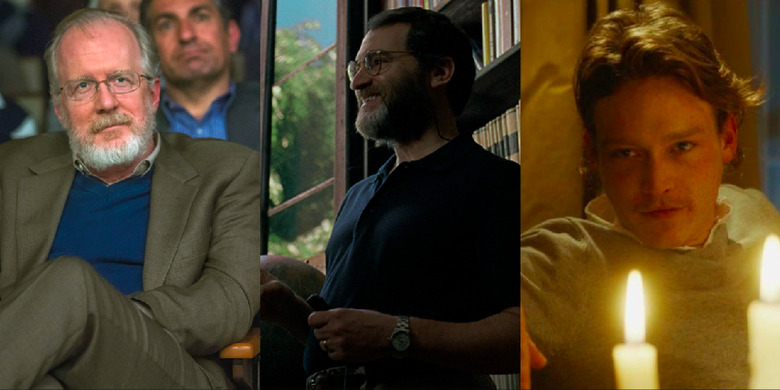 While 2017 has, overall, been a tire fire of a year, it has also been a largely rewarding year for cinema. (It should go without saying, but every year is rewarding for cinema.) Though there have been thematic throughlines in unexpectedly similar films, and unavoidable, sometimes unintentional parallels to real-world events, 2017 in film has been the year of the ubiquitous character actor.
In a strange coincidence (or just a sign of taste from various filmmakers), a handful of character actors have not only appeared in a number of the year's most notable films, but they've each appeared in movies that may well end up with Oscar nominations aplenty next month. Let's look at four character actors who seemingly showed up in every movie released in 2017: Caleb Landry Jones, Michael Stuhlbarg, Tracy Letts, and Bradley Whitford.
This post contains spoilers for Get Out, The Florida Project, Three Billboards Outside Ebbing Missouri, Lady Bird, The Post, Call Me By Your Name, and The Shape of Water.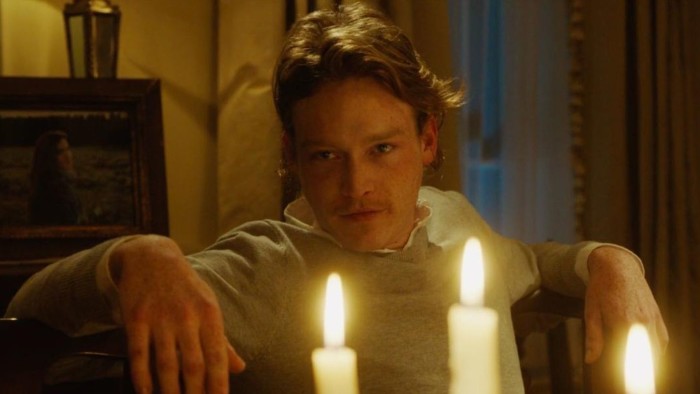 Caleb Landry Jones
In just a few short years, Caleb Landry Jones has established himself as one of the squirreliest, most intense, and most unpredictable young actors of his generation. A decade ago, he made a blink-and-you'll-miss-it debut in the Coens' masterpiece No Country for Old Men as one of the boys who help Javier Bardem's Anton Chigurh after a car accident. Since then, Jones has had roles on two of the best modern TV dramas (Friday Night Lights and Breaking Bad), played a young mutant in X-Men: First Class, and co-starred in indie films directed by Philip Seymour Hoffman, Brandon Cronenberg, and others. But 2017 was his banner year: he has supporting roles in three possible Best Picture contenders, Get Out, The Florida Project, and Three Billboards Outside Ebbing, Missouri. Plus, he even wound up in a handful of episodes of David Lynch's Twin Peaks revival this summer.
Jones, perhaps more than the other actors on this list, might have had the most remarkable year because of how wildly different he seems in each part. In his earlier roles, Jones established himself as a slippery, sometimes repellent presence, which figures heavily into how he appears in Jordan Peele's masterful Get Out. Jeremy Armitage is the last, most visibly aggro member of the well-to-do Northeastern family that the film's reserved Black protagonist, Chris (Daniel Kaluuya), encounters. Jeremy dresses in an upscale-prep style, but his long hair and intense gaze gives him away as more than just an obnoxious, fratty dudebro.
In Jones' first big scene, as Chris has dinner with the family of his White girlfriend (Alison Williams), he dives into the oily character with aplomb, pushing Chris to talk about how athletic he might be, and gauging whether or not he's into MMA. Over the next hour, Chris realizes that his girlfriend's family is genuinely monstrous, luring Black people to their estate to go through a medical procedure that allows white people to inhabit their bodies while they are cast adrift in "the sunken place." Before Chris can escape, though, he has to face off with Jeremy in a bloody fight to the death, paying off those earlier queries about MMA.
Jones' other parts this year are diametrically opposed to his nefarious work in the superlative horror satire. His briefest appearance is in the year's best film, The Florida Project, showing up in a couple of scenes to play Jack, the son of motel manager Bobby (Willem Dafoe in a career-best performance). Once you see the two men next to each other, Bobby recruiting his son to help with some menial tasks around the Central Florida motel, it becomes so obvious that you can't believe you didn't see the resemblance before. Of course Jones would play Dafoe's son; it's not just that both men are versatile performers, but the physical similarities extend to their finely defined cheekbones and intense eyes. Jack doesn't stay around too long, as his dialogue obliquely suggests that Bobby and Jack's mother still have a contentious relationship although they're no longer together. Bobby doesn't resolve anything with Jack by the end of the film; you get the sense that he gains more from his surrogate-father status with the young children who stay at his motel than from his own son. Yet Jones manages to stick out in a good way, his absence punctuating the final, heartbreaking half of the film even more.
Jones is in a bit more of Martin McDonagh's black-comic thriller Three Billboards Outside Ebbing, Missouri, as Red, the local operator of the billboards that Frances McDormand's Mildred Hayes uses to send a sharp message to the police force that has failed to solve the brutal rape and murder of her daughter. Outside of an early scene, and the suggestion that Red sympathizes enough with Mildred's plight to not argue about the stridency of her profane messages, Red mostly gets two key scenes in the latter half. In the first, he's literally tossed out of a building by Dixon, a racist cop (Sam Rockwell); in the second, after Dixon has been burned in an explosion, Red finds himself sharing a hospital room with his attacker. Rockwell has been rightly praised for his work in Three Billboards (I might quibble with the writing, but Rockwell sells the complexity of the cop's journey from start to finish), but in this scene, Jones is incredible. Red is forced, if only by the demands of polite society, to stop himself from retaliating against Dixon. His tearful willingness to offer Dixon a cup of orange juice with a straw to sip from through his bandages is a moving grace note, and a nice cap to Jones' phenomenal year.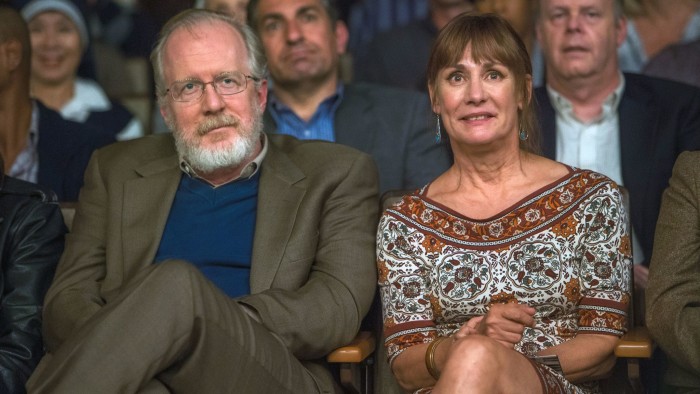 Tracy Letts
Some cinephiles (as well as those who love the stage) might know Tracy Letts more from his work as a writer. He's the author of such plays-turned-into-films as Bug, Killer Joe, and August: Osage County, the latter of which garnered him the Pulitzer Prize for Drama. This year, he stepped in front of the camera a bit more in two notable films, each of which may end up with Best Picture nominations: Greta Gerwig's coming-of-age dramedy Lady Bird and Steven Spielberg's The Post. (Fair warning: you're going to see The Post mentioned often here.) In Lady Bird, Letts plays Larry, the kindly, clinically depressed father of Lady Bird, AKA Christine McPherson (Saoirse Ronan). So far, Lady Bird has been getting tons of justified praise for its cast, primarily Ronan and Laurie Metcalf, who plays Lady Bird's tough-willed, loving mother. Having said that, Letts acquits himself admirably in a role that's tough on its own, primarily for being more subtle and backgrounded.
Early in the film, Larry loses his job and struggles throughout the rest of the story (taking place over Lady Bird's senior year of high school) to regain employment. Letts has a number of solid moments on which to build his empathetic performance, such as when Larry secretly agrees to help Lady Bird apply to colleges far beyond the local radius her mother wants her to focus upon for financial reasons. But Letts' best moment, and his quietest, is when Larry exits a job interview that is clearly not going to win him a new position, and sees that his barely-out-of-high-school-aged son Miguel is next in line to apply for the job. Letts allows a number of emotions to fleetingly appear as Larry looks at his son, taking him in as a grown-up and then helping him adjust his tie before wishing him luck. It's a profoundly complex action, in which Larry tries his best to maintain his dignity, refusing to get petty in a stressful moment.
Considering that he's one among countless performers in The Post, Letts doesn't have as many moments in which to shine through. (Hell, The Post puts Bob Odenkirk and David Cross on screen together a handful of times, which can only mean that Steven Spielberg is a huge Mr. Show fan. I brook no argument here.) He plays Fritz Beebe, the chief corporate officer of The Washington Post, and is primarily presented in The Post as one of the few allies of the paper's publisher, Katharine Graham (Meryl Streep). Unlike every other man that Graham encounters at the head of the Post, Fritz is more willing to be a confidant to Graham as opposed to doubting her simply because of her gender.
Even though he appears a fair amount in The Post, Letts gets but one real memorable moment near the end, as he laughs delightedly at the audacity of Graham's decision to push forward with a controversial story about the Pentagon Papers that might send Graham and her journalists to jail. It's a moment not meant to be derisive or mocking, but almost revelatory and charmed; in this movie, more than Lady Bird, Letts wisely backs away from the spotlight in favor of strong female performers, but his ubiquity is still worth acknowledging.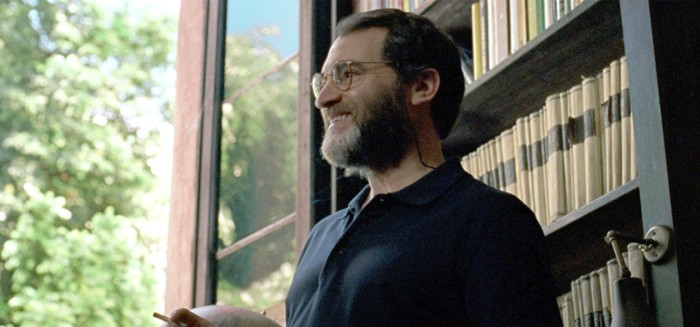 Michael Stuhlbarg
Though he had acted steadily on television and the stage, Michael Stuhlbarg first became widely known when he starred as the hapless lead in Joel and Ethan Coen's A Serious Man eight years ago. Since then, Stuhlbarg has played a real-life gangster on HBO's Boardwalk Empire, as well as starred in films directed by Martin Scorsese, Woody Allen, Barry Sonnenfeld, Don Cheadle, Danny Boyle, and others. But 2017 might be his single best year; like Caleb Landry Jones, Stuhlbarg is co-starring in three films that might wind up as Best Picture Oscar nominees. (Notably, he's in three different films from Jones. It might be an Oscar first for two different actors to each appear in three separate Best Picture nominees, in the same year.) Though he's playing wildly different characters in Guillermo del Toro's The Shape of Water, Steven Spielberg's The Post, and Luca Guadagnino's Call Me By Your Name, Stuhlbarg shines through in each one.
His smallest part comes in The Post, where he plays Abe Rosenthal, the editor of The New York Times as it's being attacked by the United States government for publishing information it considers damaging and private. (Yes, The Post's relevance is impossible to ignore.) Rosenthal, in the early going, mostly seems like a figure that Washington Post editor Ben Bradlee (Tom Hanks) is envious of, because of his newspaper's ability to break major news stories, while the Post can only follow in its wake. By the end, Rosenthal and the Times are less rivals and more equal partners with the Post as they face off against the Supreme Court; even though he has a small amount of screen time among the massive ensemble, Stuhlbarg's presence is established quickly and firmly.
The Shape of Water offers Stuhlbarg the opportunity to play both a savvier riff on his pathetic protagonist in A Serious Man, as well as that of a double agent hiding in plain sight and struggling to gain respect from his superiors. Among his many strengths as an actor, Stuhlbarg is able to perfectly capture the bottled-up sense of impotence in henpecked middle-aged men, which works well with his character Dr. Hofstettler. That impotence is part of his performance even after it's revealed that the doctor — who aids the deaf Elisa (Sally Hawkins) because he believes the Amphibious Man (Doug Jones) that a government heavy has captured should be treated humanely — is also a Russian agent in disguise. Most of Stuhlbarg's scenes in The Shape of Water are shared with his old co-star from Boardwalk Empire, Michael Shannon (as said government heavy). Both Shannon and Stuhlbarg are working within familiar contexts, but del Toro smartly gives them nuances to their characters. They each do an excellent job, though Stuhlbarg's ability to play Hofstettler as someone whose failure to convince his American and Russian superiors of the value of the Amphibious Man gives him just an extra bit of pained, bittersweet context.
"Pained" and "bittersweet" are equally apt terms to describe Call Me By Your Name, the movie for which Stuhlbarg is (correctly) receiving the highest praise. In truth, much of the praise is focused on a big monologue Stuhlbarg delivers in the final minutes of the period romance. Guadagnino's adaptation tells the story of Elio Perlman (Timothée Chalamet), a teenager spending the summer of 1983 in northern Italy who unexpectedly falls in love with his father's graduate-student assistant Oliver (Armie Hammer). Though Elio and Oliver engage in a fairly torrid affair, it inevitably must conclude when Oliver leaves Italy for America after his six-week stay. As Elio handles the heartbreak in secret, having attempted to keep the relationship as quiet as possible, his father (Stuhlbarg) approaches him in surprising, bracing fashion. He makes clear that he and Elio's mother both knew of the romance, and did what they could to encourage its flowering. Professor Perlman also implies that he, too, engaged in a similar homosexual affair as a younger man, and while it ended too soon, the passion he felt was something he wanted his son to feel as well.
Stuhlbarg is already an incredible actor, but the monologue (from the James Ivory-written screenplay) is, on its own, enough to earn him a Best Supporting Actor Oscar nomination. The empathy he displays here is almost as heartbreaking as the truncated romance between young Elio and Oliver. Call Me By Your Name does not end on an uplifting note, as Elio learns that Oliver is engaged back to a woman in the States even as they continue to share feelings for each other. But the moment where Professor Perlman reaches out to Elio is one of the film's high points, the shared sense of heartache and its long-lasting power embodied so touchingly by the elder actor. Like Jones, especially, Stuhlbarg has so much range as a performer, and his work in Call Me By Your Name is proof enough of that.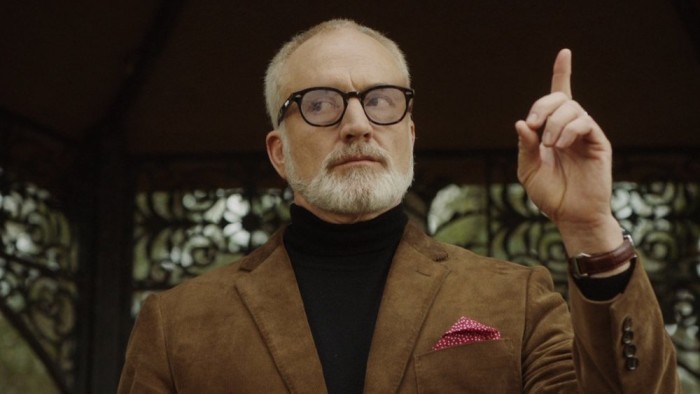 Bradley Whitford
Though he's still best known for playing Josh Lyman on NBC's The West Wing, Bradley Whitford tapped back into the douchey style evinced by some of his earlier film characters in his two standout parts in 2017. (Remember him in Billy Madison?) Whitford's marquee part is in Get Out, where he starred opposite the aforementioned Caleb Landry Jones as Dean Armitage, the seemingly friendly but genuinely scary practitioner of the medical procedure that places White people into Black people's bodies. (A video that the film's lead, Chris, is forced to watch in the final act makes it clear that Dean was encouraged in this act by his father, who now resides in the estate's groundskeeper.) But in the same way that Whitford traffics in his outwardly genial but not-so-secretly nasty side in Get Out, it's present in his role in Steven Spielberg's The Post.
Where the former film focuses primarily on racism (as when Dean calls the relationship between Chris and his daughter "this thang"), Whitford is an embodiment of the ingrained, visibly toxic sexism that pervaded (and still pervades) the newspaper industry. He plays Arthur Parsons, a Washington Post board member in 1971 who makes his doubts about the paper's publisher, Katharine Graham, known as early as possible. By the end of the film, Parsons clashes even more with Graham, the latter of whom approves her investigative journalists to pursue a story about the Pentagon Papers that might send them to jail if the Supreme Court rules against them. Parsons, focused more on the Post being traded publicly on the American stock exchange, sees Graham as a weak-willed leader failing to step out of the shadow of her dead husband.
In both films, arguably, Whitford is playing something akin to a straw man. Just as it's viscerally satisfying for Dean Armitage to be taken out by Chris in the climax of Get Out, it's rousing when Graham gets to calmly, but firmly, tell Parsons where to stick his sexist viewpoints. (It also may be Hollywood finessing, as opposed to whatever Graham did to push back against the members of her paper's board back in the early 1970s.) Whitford helps both characters stand out, though the loaded dialogue in Get Out where Dean tries to tell Chris he would've voted for Obama a third time if he could have helps there, too. Just as Whitford used his prep-school looks to traffic in playing douchebags in his earlier career, he's doing something similar in 2017, utilizing his shift into later-middle-age as paternal characters whose privilege is firmly curdled into something terrifying. Whitford stands out in these films, as an avatar of white status gone very wrong.
Wrapping It Up
The timing and release of any movie can, in some respect, be chalked up to coincidence. The Post, as an example, was filmed and finalized during the post-production period of Steven Spielberg's next film, Ready Player One, while Get Out has gained massive resonance despite having been written and filmed while Barack Obama was President. So in reality, it's more coincidental that this year has offered so many standout character-actor performances in such disparate films. But even if a trend occurs accidentally, it's still a trend. These four actors aren't the only great character actors to stand out in 2017 (if you think of people like Willem Dafoe and Sam Rockwell as character actors of a sort, it's been a good year for them, too). However, their very presence in so many of the year's films has consistently been a sign of good things to come.