Before 'Pitch Perfect 3', Anna Kendrick, Rebel Wilson & More Recap The Whole Franchise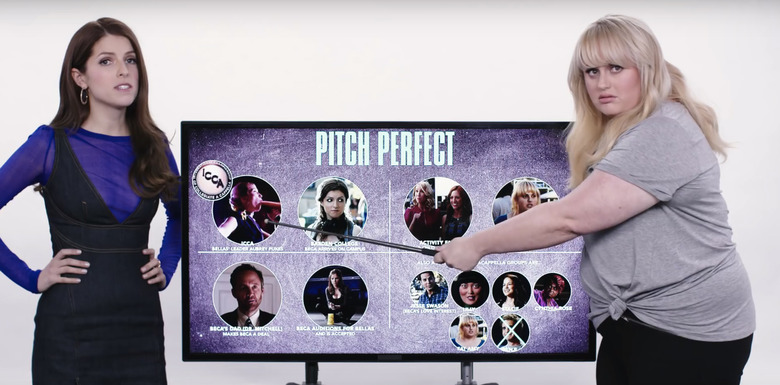 This weekend brings Pitch Perfect 3 to theaters, offering a different kind of musical opposite Hugh Jackman's circus extravaganza in The Greatest Showman. So just in case you haven't seen the first two installments of the a capella franchise, Anna Kendrick, Rebel Wilson, Brittany Snow, Anna Camp, Chrissie Fit, Hana Mae Lee, and Ester Dean took the time to run through both Pitch Perfect movies in under seven minutes. It's not as fun musically, but it's a good way to catch up for anyone who has a friend dragging them to the final performance of the Bellas.
Watch the Pitch Perfect recap below.
Even though this is a fun recap video (and I can never get enough of Anna Kendrick in my life), it sounds like this recap might be more entertaining than the final sequel in the franchise. Our own Josh Spiegel called it a "desperate and unnecessary sequel" in his full review, and it doesn't get much worse than that.
Now graduated from college and out in the real world where it takes more than a cappella to get by, the Bellas return in Pitch Perfect 3, the next chapter in the beloved series that has taken in more than $400 million at the global box office. After the highs of winning the World Championships, the Bellas find themselves split apart and discovering there aren't job prospects for making music with your mouth. But when they get the chance to reunite for an overseas USO tour, this group of awesome nerds will come together to make some music, and some questionable decisions, one last time.
Pitch Perfect 3 is in theaters everywhere now.