The 15 Best Christmas TV Episodes Streaming Right Now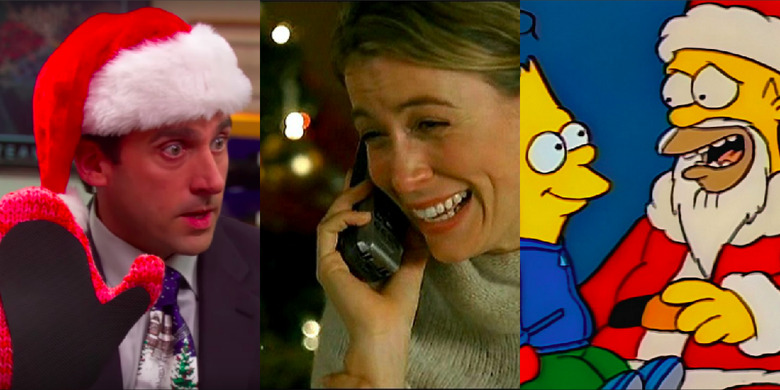 With presents nestled under the Christmas tree and family members to avoid, what better time to pop in an episode of your favorite show? While holiday-themed episodes are often hit-or-miss, they've also churned out some of the best hours and half-hours of television that you can throw on in the background while you wrap your presents.
Christmas-themed TV episodes offer a wonderful alternative to the myriad of saccharine Christmas movies, with stories ranging from profoundly uplifting to hopelessly bleak. A good chaser after watching The Holiday for the umpteenth time.
Here is a list of the best holiday-themed episodes that you can find streaming online now.
15. "The Best Chrismukkah Ever," The O.C.
You can't start off Christmas without a side of melodrama. The teen soap was a defining show of the early 2000s, introducing to us a whole new holiday coined by Seth Cohen: Chrismukkah. Though the episode threatens to get weighed down by Marissa's (Mischa Barton) shoplifting subplot and Ryan's (Ben McKenzie) struggle with accepting the Cohens' cheery approach to the holidays, Seth's belief in the power of Chrismukkah gives the hour just the right amount of festive spirit. Seth may have been typical of the hyper-verbal sensitive geek who dominated the pop culture landscape at the time (he mentioned The Shins, take a swig of egg nogg!), but Adam Brody plays him with such irresistible charm that it's easy to see how this episode launched Seth to fan-favorite territory.
Where to Find It: Hulu
14. "Christmas Party," The Office
The first of many office holiday parties on this list, "Christmas Party" is the episode that is the most authentic to the uncomfortable experience of celebrating a holiday with people whom you're forced to spend countless hours with. An office Secret Santa gets thrown into turmoil when Michael (Steve Carrell) becomes offended by everyone's cheap presents, turning the event into a Yankee Swap free-for-all. Feelings get hurt and shenanigans ensue, but Christmas spirit and the blossoming love between Jim (John Krasinski) and Pam (Jenna Fischer) win in the end.
Where to Find It: Netflix
13. "In Excelsis Deo," The West Wing
Humanity and The West Wing go hand-in-hand, so it's no surprise that Christmas folds in nicely to the themes of Aaron Sorkin's beloved series. "In Excelsis Deo" follows the White House staff as they navigate the tricky publicity surrounding a hate crime against a homeless Korean War veteran. One of the quieter holiday episodes, no Christmas miracle or emotional revelation take place — just Toby (Richard Schiff) silently wrestling with the ethics of using the President's (Martin Sheen) clout to do a good deed. The 1999 episode would go on to win an Emmy and become one of the most memorable episodes of the series.
Where to Find It: Netflix
12. "The Strike," Seinfeld
This classic 1997 Seinfeld episode coined a fake holiday, and started a very real tradition that will last as long as ironic TV-themed parties exist. Festivus, the secular holiday celebration which began as George's (Jason Alexander) dad protesting the commercialization of Christmas, descends into a celebration of small personal disasters: Jerry's girlfriend storming out on him, Elaine (Julia Louis-Dreyfus) losing her sub card, and Kramer (Michael Richards) getting hired and fired at a bagel shop. "The Strike" gifts us with words that will dominate the pop culture lexicon ("two-face," "airing of grievances") but most importantly it has Jerry Stiller's Frank Costanza declaring a "Festivus for the rest of us!"
Where to Find It: Hulu
11. "A Christmas Carol," Doctor Who
We've seen countless iterations of Charles Dickens' Christmas classic, but Doctor Who manages to give the old tale a fresh, wibbly-wobbly twist. With Amy and Rory stuck on a crashing space ship hurdling down toward a Christmas planet (yes, it's all Christmas, all the time), the Doctor (Matt Smith) must convince the Scrooge-like millionaire Kazran Sardick (Michael Gambon) to help save their lives. There are no ghosts here — except for perhaps the beautiful, dying woman (Katherine Jenkins) with whom Kazran is enamored — as the time-traveling Doctor takes it upon himself to show Kazran his past and future. Michael Gambon lends the episode a sad gravitas that balances out Matt Smith's manic Doctor, making for one of the best modern iterations of A Christmas Carol yet — aside from maybe the flying sharks.
Where to Find It: Amazon Prime
10. "Afternoon Delight," Arrested Development
No one can do holiday dysfunction quite like the Bluths. The family's annual office party quickly turns into inappropriate hijinks when Michael (Jason Bateman) and Maeby (Alia Shawkat) accidentally sing karaoke to a slightly inappropriate song and Lindsay (Portia de Rossi) grows frustrated that no one will flirt with her, per Gob's (Will Arnett) instructions. Throw in some pot brownies, carnival games, Mae Whitman creepily singing about baby Jesus, and you've got some Christmas comedy magic.
Where to Find It: Netflix
9. "Christmas Comes But Once a Year," Mad Men
Christmas can find people in their highest spirits, but the holidays only serve to lay low the great men at Sterling Cooper Draper Pryce. "Christmas Comes But Once a Year" is a snapshot of Don (Jon Hamm) at one of the lowest points in his life, spending his first Christmas without his family and ill advisedly sleeping with his secretary Allison (Alexa Alemanni). But it's not grim soul-searching in this episode. The more sobering elements are counteracted by the office party thrown by Joan (Christina Hendricks) in honor of their biggest client Lucky Strikes, where we are presented with that delightful Christmas-themed conga line.
Where to Find It: Netflix
8. "So-Called Angels," My So-Called Life
My So-Called Life was a pivotal coming-of-age series that ended too soon — which makes every episode of its one-season run hit that much harder. The Christmas-themed episode "So-Called Angels," deals with teen homelessness. While the show's heavy-handed themed and tacked-on PSA verges on after school special territory, the series' earnest and raw approach to teen homelessness through Angela's (Claire Danes) friend Ricky (Wilson Cruz) and a literal teen angel gives makes it one of the most powerful Christmas episodes in recent TV memory.Where to Find It: Hulu
7. "White Christmas," Black Mirror
If Christmas spirit to you means reveling in nihilistic futurism, Black Mirror delivers. Jon Hamm and Rafe Spall star in this bleak episode, comprised of a series of three holiday-themed vignettes told by the men in a secluded wintry cabin. While the three stories are starkly different, they're tied together by the technology of soul-imprinting "cookies" and the ideas of dealing with the consequences of one's actions in a world where technology is particularly unforgiving.
Where to Find It: Netflix
6. "Ludachristmas," 30 Rock
30 Rock is at its best when it hones in on the compelling dynamic between Liz (Tina Fey) and Jack (Alec Baldwin), compounded in "Ludachristmas" by the the arrival of their families. Jack and his bitter mother Colleen (a fantastic Elaine Stritch) are thrown off by the Lemons' cheery and loving attitude, but while Jack comes to accept it, Colleen becomes determined to break them. The Lemons turn out to be easily unraveled, while Jack and Colleen share a surprisingly sweet moment reveling in their candid relationship.Where to Find It: Netflix 
5. "Abed's Uncontrollable Christmas," Community
Community wasn't above a gimmick episode every now and then, and "Abed's Uncontrollable Christmas" certainly appeared like one. Presented in stop-motion animation and featuring the gang going on a cheery adventure through a candy-filled land to find Abed (Danny Pudi) — each of the obstacles a metaphor for Abed's inner demons. In the end, the story turns bittersweet: It turns out Abed's elaborate delusion of a stop-motion musical episode was a way for him to cope with his parents not visiting him for Christmas. It's a poignant and personal episode that finds the balance between bitter comedy and sweet Christmas spirits, with the study group ultimately uniting around Abed to create their own holiday tradition.Where to Find It: Hulu
4. "Amends," Buffy the Vampire Slayer
Speaking of inner demons, for a show that makes it its business to fight them, there's not a demon in sight in Buffy the Vampire Slayer's outstanding Christmas episode, "Amends." That's because this Angel-centric episode is all about dealing with the ghosts of one's past, spurred on by the First Evil. But the episode's slow-moving, existential take on Christmas just works, with Buffy (Sarah Michelle Gellar) and Angel's (David Boreanaz) climactic battle of philosophies taking on shades of It's a Wonderful Life and the ever-present A Christmas Carol. Haunted by the ghosts of the countless people he's killed, Angel decides to put an end to his misery. As Angel bemoans that he is not strong enough to live, Buffy tearfully counters, "Strong is fighting! It's hard, and it's painful, and it's every day. It's what we have to do. And we can do it together." It's not her words that stop her — that would be too sentimental for this dark episode — but Christmas magic: snowfall in California. The episode offers a bold approach to a potentially treacly Christmas episode, introducing a sinister, abstract presence that Buffy can't punch, and an uplifting ending that seems miraculous even by Buffy's standards.
Where to Find It: Hulu
3. "Simpsons Roasting on an Open Fire," The Simpsons
It's fitting that America's favorite long-running cartoon would have kicked off its 28-year run with a Christmas episode. The very first episode of The Simpsons to air was its Christmas special, "Simpsons Roasting on an Open Fire," and it's a little shocking to see how much the family has changed since then: Homer was a mean grouch, Springfield was a drab middle-America town. But even as the episode goes down some dark and surprisingly grim paths, The Simpsons wraps up its introduction in a nice red bow, making you fall in love with the humble family as they close out the episode with a heart-warming rendition of "Rudolph the Red-Nosed Reindeer."
Where to Find It: FXNow or SimpsonsWorld.com with a Preview Pass or cable login
2. "Night of the Meek," The Twilight Zone
The Twilight Zone bucks its reputation as a purveyor of macabre morality tales for this earnest episode about a down-on-his-luck man who only wants to save Christmas. An alcoholic mall Santa becomes despondent at people losing sight of the true spirit of Christmas, only to discover a magical gift-giving bag that allows him to be the real Santa Claus for a night. The twist: there is none. He is able to give joy to children, adults, and even the authorities who arrest him for stealing the presents that he doles out. Like Rod Serling tells us in the closing narration, that's the "wondrous magic to Christmas."Where to Find It: Netflix
1. "The Constant," Lost
"The Constant" is by far one of the best episodes of Lost, if not one of the best hours of television ever. And to tell the truth, Christmas plays a minimal but pivotal role in this metaphysical episode, merely providing the setting for Desmond (Henry Ian Cusick) and Penny's (Sonya Walger) reunion. But despite the sci-fi technobabble and the head-spinning narrative, "The Constant" is at its heart the ultimate Christmas episode. The episode follows a confused Desmond as he becomes "unstuck" in time, flashing back and forth between his past and present. The temporal whiplash threatens to drive Desmond mad, unless he can find a "constant," a person who can ground his subconscious at any point in his life. That person is Penny, the love of his life, with whom he reunites in a teary phone call on Christmas, the two of them stuttering their love for each other before quickly being separated again. It's a dense, gripping episode that plays as a perfect parable about the holidays: There's nothing that is truer to Christmas spirit than celebrating human connection amidst the chaos and uncertainty of the world.
Where to Find It: Netflix (But hurry, it's leaving in January.)