TV Trailer Round-Up: 'Grace And Frankie', '2 Dope Queens', 'The Path' 'Stargate: Origins' And More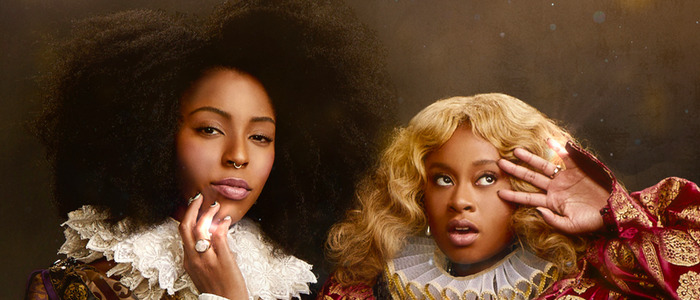 We cover a lot of stuff here at /Film, but sometimes a trailer slips through the cracks. And that's where a good old fashioned trailer round-up comes in handy! This is a very special trailer round-up because it's devoted solely to TV trailers. We love you, TV! You don't judge us like others do! Below, find trailers for Grace and Frankie, 2 Dope Queens, Crashing, The Path, Little Women, Stargate: Origins and Riverdale.
Grace and Frankie Season 4 trailer
Grace and Frankie, the Netflix series that stars Jane Fonda and Lily Tomlin as two women who become friends when they learn their respective husbands have secretly been romantic partners for years, is coming back for season 4 on January 19, 2019. The trailer for the new season is here, showing Fonda and Tomlin in top form. Here's the official synopsis: "In Grace and Frankie, Jane Fonda ("Grace") and Lily Tomlin ("Frankie") star as two women whose lives are suddenly turned upside down when their husbands reveal they are gay and leave them for each other. Both sparring partners and partners-in-crime, they form an unlikely bond to face an uncertain future together and discover a new definition of "family," with laughter, tears and plenty of mood enhancers along the way."
2 Dope Queens trailer
Jessica Williams and Phoebe Robinson turn their hit 2 Dope Queens podcast into a new HBO series, and here's the teaser trailer to prove it. I'm a little ashamed to admit I have never listened to the podcast, but I'm a really big fan of Williams – I urge you to check out her great leading performance in the Netflix movie The Incredible Jessica James – so I'll definitely be checking this show out when it hits HBO on February 2, 2018.
Crashing Season 2 trailer
Hey, what the heck is Crashing? I have no idea, because I've never heard of this show. But it exists! And HBO gave it a second season! If you don't believe me, just take a look at the trailer above. The show is about a "A New York comic [who] is forced to make a new start for himself after his wife leaves him," and stars Pete Holmes, with appearances from Lauren Lapkus, Artie Lange, George Basil, Dave Attell and Dov Davidoff. Crashing, everyone! The show returns to HBO on January 14, 2018.
The Path Season 3 trailer
I watched the first season of Hulu's cult-themed series The Path, and it was pretty cool! I sadly haven't kept up with it, and now season 3 is here to make me feel guilty. The show stars Aaron Paul, Michelle Monaghan and Hugh Dancy, and focuses on "a family at the center of a controversial cult movement as they struggle with relationships, faith and power." The Path season 3 begins on January 17, 2018.
Little Women trailer
Those Little Women are at it again. PBS's Masterpiece has adapted Louisa May Alcott's classic novel into a three-part miniseries from Call the Midwife creator Heidi Thomas and director Vanessa Caswill. "Set against the backdrop of the Civil War, the story follows sisters Jo, Meg, Beth and Amy March on their journey from childhood to adulthood. With the help of their mother, Marmee, and while their father is away at war, the girls navigate what it means to be a young woman: from sibling rivalry and first love, to loss and marriage." Get your tissues, you're going to be doing a lot of weeping when Little Women airs on May 13, 2018.
Stargate: Origins trailer
Good lord, they made another Stargate show? How many have there been now, 50? Who knew that when Independence Day director Roland Emmerich released Stargate in 1994 it would spawn several TV shows? Not me, that's for sure. But here we are, with Stargate: Origins, a new series that "explores the journey that sets a young Catherine Langford on the way to helping unlock the secrets of an ancient technology that could change the very course of humanity." A trip to Wikipedia reminds me that Catherine Langford was the character in the first movie who hired James Spader to examine the Stargate. I'm sure she plays a part in the many TV shows too, but having never seen them, I can't comment. Stargate: Origins premieres February 15, 2018.
Riverdale trailer
Riverdale, the hot CW show that turned Archie comics into a big, sexy mystery series, is one of the most buzzed-about shows on TV right now, and one of these days I'm going to get around to watching it. The show has been a big hit, mostly thanks to Netflix, who aired the first season almost immediately after it ended, helping to turn the second season into an even bigger hit. There are already plans for a spin-off featuring Sabrina the Teenage Witch. Everything's coming up Archie! There's a new Riverdale trailer for you above, which isn't for a season but rather an episode, for when the show returns on January 17, 2018.