'Mary And The Witch's Flower' Trailer: Studio Ponoc's First Movie Follows In The Footsteps Of Ghibli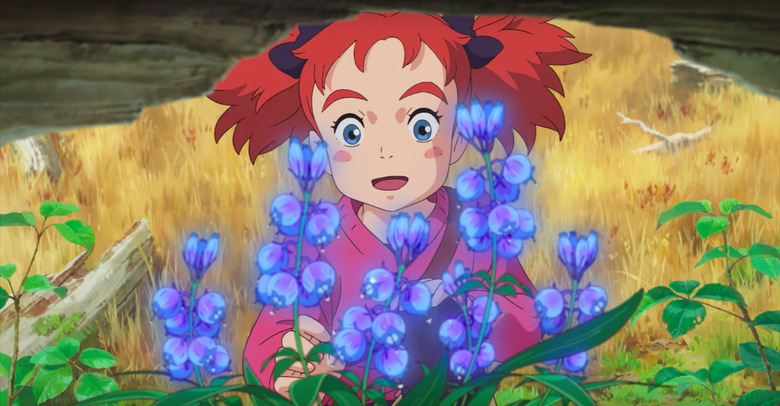 Studio Ghibli may have closed its doors (for now), but Studio Ponoc is here to try to live up to its mantle as the premiere animated studio outside of Disney and Pixar.
Ponoc already has a lot going for it — the studio was founded by Hiromasa Yonebayashi, an animator on Spirited Away, and the director of acclaimed late-era Ghibli fare like The Secret World of Arrietty and When Marnie Was There. And Ponoc's first official film, Mary and the Witch's Flower, seems to be animated in the house style of Ghibli as well, making it an easy transition for any hardcore Ghibli fans. Let's see if the film holds up to that daunting reputation.
Mary and the Witch's Flower Trailer
Adapted from Mary Stewart's 1971 classic children's book The Little Broomstick, Mary and the Witch's Flower looks every bit as whimsical and enchanting as a Ghibli heir should be. The only problem is that it's almost too familiar. Look there, that shot of Mary being engulfed by blue magic, that looks just like the shot where Sophie nearly catches on fire in Howl's Moving Castle. The rapturous scene of Mary soaring in the sky is incredibly reminiscent of Spirited Away. Mary's cat familiar wishes it was as cool as Jiji in Kiki's Delivery Service. And the old, haggard lady looks just like the Witch of the Waste from Howl's Moving Castle.
But far be it from me to judge a movie by its trailer. I'm still incredibly excited for this film, hardcore Ghibli buff that I am. But like any Ghibli-ite, I hold any movies and directors related to it by such a high esteem compared to Hayao Miyazaki that I often end up being disappointed. Yonebayashi's Arietty was sweet but ultimately forgettable, though When Marnie Was There is a subtly moving masterpiece. I want so badly to like Mary and the Witch's Flower, but I fear that it's taking the burden of potentially launching "the next Ghibli" too seriously. Still, in an era where mainstream Hollywood animation is floundering outside of Pixar and Disney, I'll gladly support the efforts of any new aspiring studio. Especially when it offers a unique and compassionate protagonist like the titular Mary in Mary and the Witch's Flower.
Here is the official synopsis for Mary and the Witch's Flower:
Mary is an ordinary young girl stuck in the country with her Great-Aunt Charlotte and seemingly no adventures or friends in sight. She follows a mysterious cat into the nearby forest, where she discovers an old broomstick and the strange Fly-by-Night flower, a rare plant that blossoms only once every seven years and only in that forest. Together the flower and the broomstick whisk Mary above the clouds, and far away to Endor College – a school of magic run by headmistress Madam Mumblechook and the brilliant Doctor Dee. But there are terrible things happening at the school, and when Mary tells a lie, she must risk her life to try to set things right.
Mary and the Witch's Flower will be released in select U.S. theaters on January 18, 2018.