Cable Companies Are Starting To Crack Down On Sharing Streaming Passwords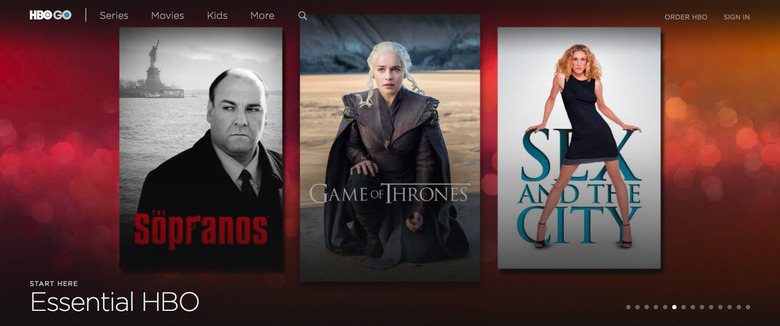 It looks like the days of you using your roommate's boyfriend's parents HBO Go account are numbered.
Cable TV providers are reportedly cracking down on the "illicit" password-sharing of cable TV and streaming accounts, which has cost them millions of subscribers and billions of dollars in revenue. For many, this could make it decidedly difficult to live as a TV buff in the era of Peak TV and overpriced living conditions.
Bloomberg reports that Charter Communications is leading an industry-wide "crackdown" against password-sharing following a recent industry conference where an example was shared of a single account being used to play 30,000 simultaneous streams. Charter reportedly approached Viacom, Inc., which owns popular channels like Comedy Central and MTV, to join the fight against password-swapping by reducing the number of allowed simultaneous streams and force more frequent logins for paid users, according to Bloomberg.
ESPN has also been participating on cutting down password-sharing, reducing the number of simultaneous streams from its app from 10 to five, according to ESPN Executive Vice President Justin Connolly. Connolly told Bloomberg that the company may plan to cut that number down to three. Connolly said:
"It's piracy. It's people consuming something they haven't paid for. The more the practice is viewed with a shrug, the more it creates a dynamic where people believe it's acceptable. And it's not."
About one third of internet users stream cable TV without paying for it, according to Parks Associates. Bloomberg reports that the industry has lost up to $3.5 billion this year, with the number set to rise to $9.9 billion by 2021. According to a Reuters/Ipsos poll, over 20 percent of viewers between ages 18 to 24 said they logged in to at least one streaming service using credentials owned by someone outside their household. About 12 percent of adults overall said the same.
For now, this crackdown seems limited to cable TV services. At a conference last year, Netflix CFO David Wells said, "If they don't use [the service] within the terms of use, we're not happy. We could crack down on it, but you wouldn't suddenly turn them all into paid users."
There's no guarantee that suddenly being cut off from the cable services would encourage viewers to subscribe to new cable packages either. Actual TV piracy is still in full swing, with cable series like Game of Thrones and The Walking Dead topping the lists of most pirated shows.
Viacom and Charter Communications have not yet responded for comment on the Bloomberg piece, according to Gizmodo. Amazon and other companies also declined to comment to Gizmodo, while Hulu is in agreement with Netflix that the more people use their site, the better.