'Bright' Sequel Already Ordered At Netflix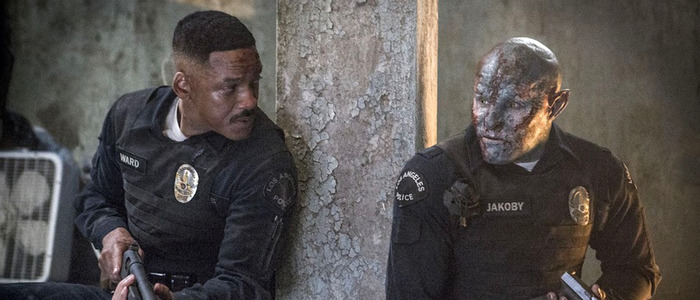 Audiences haven't seen Bright yet, but no matter: Netflix is already committed to a Bright sequel. The streaming giant already has plans to make a follow-up to their upcoming Will Smith fantasy-action flick, a cop drama set in a world of orcs, fairies and other magical creatures. Does anyone really want this?
Bright, the David Ayer-directed, Max Landis-scripted, Will Smith-starring fantasy-action-comedy-thing, will be hitting Netflix at the end of the week. But Netflix isn't content to just sit back and see how their audience reacts to the film: they're already planning on a Bright sequel. A new story in Bloomberg details Netflix's plan to do battle with blockbusters at multiplexes reveals that Smith is already signed on for Bright 2:
"Bright" is the company's first attempt at a big-budget Hollywood production, bringing together a bona fide movie star in a fantasy, buddy-cop tale that could have come from any studio playbook. Directed by David Ayer, who also made "Suicide Squad," it's a warning shot to studios and theater owners that Netflix is targeting a big chunk of the $38.6 billion global box office. To underscore the commitment, the company has already ordered a sequel with Smith signed on.
If Netflix really does move ahead with Bright 2, it will become the first franchise in Netflix history. What a time to be alive! Clearly, the streaming platform is fairly confident in Bright, or at the very least, they're confident that people will watch it. Bright stars Will Smith as a human cop who finds himself partnered with an orc, played by Joel Edgerton. The characters exist in an alternate reality where magical elements are part of every-day life. Here's the official synopsis:
Set in an alternate present-day, this action-thriller directed by David Ayer (Suicide Squad, End of Watch, writer of Training Day) follows two cops from very different backgrounds (Ward, a human played by Will Smith, and Jakoby, an orc played by Joel Edgerton) who embark on a routine patrol night that will ultimately alter the future as their world knows it. Battling both their own personal differences as well as an onslaught of enemies, they must work together to protect a thought-to-be-forgotten relic, which in the wrong hands could destroy everything.
Bright is just the latest attempt from Netflix to achieve entertainment domination through their own original programming. This isn't a knock against Netflix – they've produced some quality originals. This year alone, they had Okja, which is one of my favorite films of the year, as well as critically acclaimed films First They Killed My Father and The Meyerowitz Stories (New and Selected). That said, Bright does not look very good, so I can't say I'm personally jumping up and down for a sequel, but maybe someone else is. There's always a chance the first film could turn out to be a pleasant surprise, though, which might make Bright 2 more palatable.Bright lands on Netflix December 22, 2017.