'Mamma Mia! Here We Go Again' Trailer Is Here To Go Again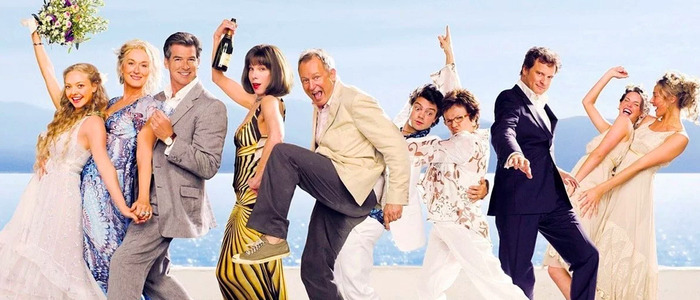 Well, here we go again, I guess. The sequel to Mamma Mia!, appropriately titled Mamma Mia! Here We Go Again, just dropped its first trailer for your viewing pleasure. Really, what more movie news do you need today? This should literally be the only movie news you need. Feel free to knock off early. The Mamma Mia 2 trailer awaits you below.
Mamma Mia! Here We Go Again reunites all your Mamma Mia! faves, and has them going again, in a brand-new musical comedy featuring the groovy ABBA tunes you love! New ABBA songs featured in Mamma Mia! Here We Go Again include  "When I Kissed the Teacher," "I Wonder (Departure)," and "Angeleyes." Mamma mia! That's a lot of songs! Anyway, here's the trailer.
Wow, there sure is a lot of going again present here! The cast of Mamma Mia! Here We Go Again includes Amanda Seyfried, Lily James, Meryl Streep, Julie Walters, Christine Baranski, Pierce Brosnan, Colin Firth, Stellan Skarsgård, Dominic Cooper, Jeremy Irvine, Hugh Skinner, while featuring a special appearance by Cher. Really, though, any appearance by Cher is special.
The first film, adapted from the  1999 West End/2001 Broadway musical of the same name, focused on a young bride-to-be (Seyfried) in search of her father so he can walk her down the isle. She snoops through her mother's (Streep) diary and learns that her father could possibly be one of three men – Brosnan, Firth, or Skarsgård. Much singing follows.
The sequel will feature more of the same, and as you can see in the trailer, it will also feature scenes set in in the past, with Baby Driver actress Lily James playing the younger version of Streep's character. More than likely the story will keep jumping back and forth in time, because you don't have an all-star cast that includes Meryl Streep and use the stars sparingly.
When it came to making the sequel, star Amanda Seyfried was refreshingly honest. "Truthfully, when they were like, 'We're making Mamma Mia 2,' I was like, "That's going to be terrible.'" she told Entertainment Weekly, before adding: "But it's not! It's amazing." Seyfried went on to say:
 "I actually had a better time than I did shooting the first movie. Everybody's back together and it's been 10 years. There's so much love and so much family that it's infused 100 times in this movie. It was so unexpected for me."
The actress also says this new film is better than the first one. So there you have it: Mamma Mia! Here We Go Again is going to go again and be even better than the first film. Mamma mia!
Mamma Mia! Here We Go Again arrives in theaters July 20, 2018.