'What We Do In The Shadows' Spin-Off Coming To TV In 2018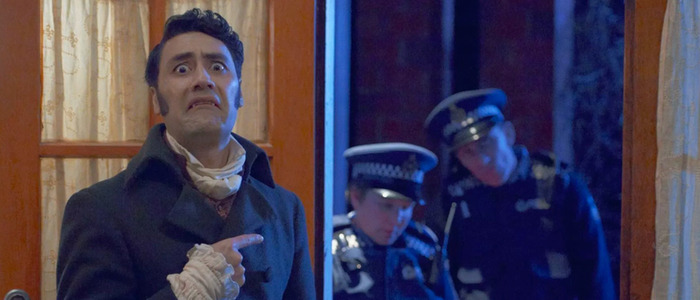 There have been rumblings of a What We Do In the Shadows sequel and TV series spin-off almost ever since the film hit theaters in 2014, and now it's time to add yet another spin-off into the mix: Wellington Paranormal will arrive in 2018. The What We Do In the Shadows spin-off will focus on the hilariously obtuse cops who appear briefly in the 2014 vampire comedy.
If you've never seen the hilarious vampire comedy What We Do In the Shadows, stop what you're doing and watch it right now. I'll wait here until you get back.
Okay, now that you've watched the film, you know it's a consistently funny mockumentary about a group of vampires living together in a flat in New Zealand, and it comes to us courtesy of Thor: Ragnarok director Taika Waititi and Flight of the Conchords' Jemaine Clement. Earlier this year, Waititi confirmed that a TV show based on the supernatural comedy was in the works alongside the potential spin-off film We're Wolves. At the same time, Waititi revealed another spin-off was in development: a movie about the two oblivious cops from What We Do In the Shadows, following them as they investigate paranormal activity. Waititi described it as a "mockumentary X-Files." Now things have changed: the cop-based spin-off is no longer a movie, it's a TV show called Wellington Paranormal, and it's coming in 2018.
We reported on this potential spin-off show back in 2016. Back then, it was called Paranormal Event Response Unit, but now, as it readies for air, it has the less-wordy Wellington Paranormal title. Speaking with Stuff, Jemaine Clement revealed Wellington Paranormal would consist of six 30-minute episodes that will air on TVNZ 2 in mid-2018.
In What We Do in the Shadows, two police officers show up at the vampire's flat to investigate a report of a disturbance. Our undead protagonists are able to hypnotize the cops to the point where the two officers of the law are unable to pick up on several alarming things right in front of their faces, including a dead body in the basement. Here's a clip from the scene in question.
Wellington Paranormal will follow police unit members Mike Minogue and Karen O'Leary along with a new character, Sergeant Maaka Pohatu, as they investigate ghosts, werewolves, demonic possessions and other paranormal phenomena. This sounds utterly delightful, and I hope the show makes its way to the U.S. soon after it airs in New Zealand.
The What We Do In the Shadows spin-off film We're Wolves, focusing on a group of polite werewolves who appear in the original film, is currently being worked on by Waititi and Clement, but don't expect to see it any time soon. "We're notoriously [slow] at writing together, Jemaine and I," Waititi said. "It usually takes place over emails, so we're email each other one line of dialogue once a month. What We Do in the Shadows took six years to write."