'Half Magic' Trailer: Heather Graham's Directorial Debut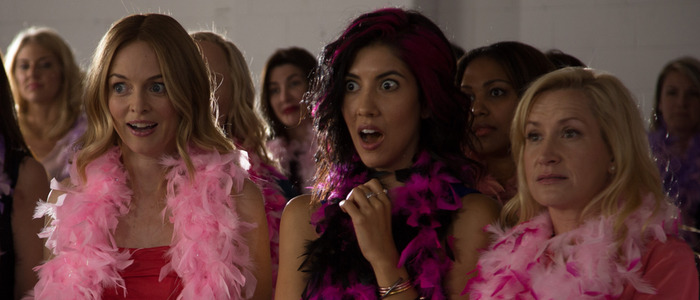 Heather Graham makes her directorial debut with Half Magic, a comedy starring Graham, The Office's Angela Kinsey and Brooklyn Nine-Nine's Stephanie Beatriz. The actresses play free friends who decide to rebel against sexism and bad relationships through a series of wild adventures. Many standard comedy movie beats seemingly follow. Watch the Half Magic trailer below.
Actress Heather Graham decided to fight back against sexism in the movie industry by making her own movie. "It's like, 'You know what, maybe no-one's giving me the job I really want, so I'm going to give it to myself'," the actress explained. The fruit of Graham's labor is the film Half Magic, and the new trailer provides a look at Graham's directorial debut.
Half Magic Trailer
Alright, look: I like everyone involved with this movie, and I like Graham's idea of fighting back against a sexist industry by making her own film. That said, this trailer...isn't that great. It's full of your standard comedy beats that have been featured in an infinite number of trailers before it. Of course, this could just merely be a case of a lackluster trailer, and the film might turn out to be much better than what we see here.
Speaking about the film, Graham said that Half Magic is "about sex. No matter what kind of negative attitudes you might have picked up from religious or cultural conditioning, this story is about learning to love your sexuality and seeing it as a beautiful part of yourself." Of her character, Graham said: "She's a modern woman and doesn't really believe that's true – but if that's your programming, how do you let that go?"
Again, that sounds good! I just wish this trailer was a little...better? I'll certainly give the film a chance and see how it turns out in the end. Here's the official Half Magic synopsis:
Three women use their newly formed sisterhood to fight against sexism, bad relationships and low self-esteem. Through embracing their wild adventures, they learn the secret to ultimate fulfillment.
Half Magic began filming back in 2015, but it'll finally see the light of day early next year. Graham both wrote and directed the film, which also stars Jason Lewis, Molly Shannon, Luke Arnold, Thomas Lennon, Angela Kinsey, Johnny Knoxville, Chris D'Elia, Michael Aronov, and Alex Beh.Half Magic opens in theaters and arrives via On-Demand & Digital HD on February 23, 2018.