'Solo: A Star Wars Story' Is Like A Gangster Movie, Paul Bettany Says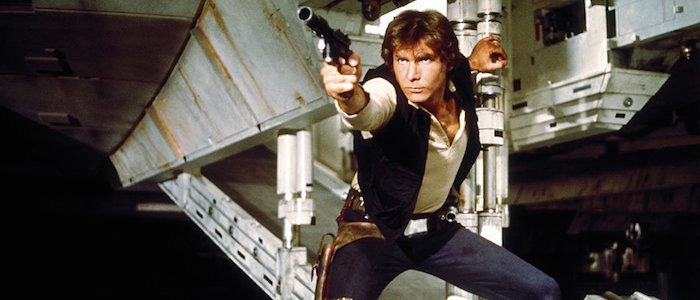 There are five months remaining until Solo: A Star Wars Story hits theaters, but we don't know much about it beyond its star-studded cast and its highly publicized behind-the-scenes troubles. That, and the bold claims that the cast and crew have been making during the press rounds as they try to describe the film as vaguely as possible (because Disney snipers are watching). Is it a heist film? A space western? A comedy?
Let's add "gangster film" to that growing list of superlatives. Paul Bettany, who joined the Han Solo prequel shortly after Ron Howard stepped on as director, has some enthusiastic descriptions that may give us a clearer picture of the film as the hoopla over Star Wars: The Last Jedi cools down and the anticipation for Solo heats up.
It is a little odd that we're a little over five months away from the release of Solo: A Star Wars Story and we haven't even seen a proper cast photo yet (that photo with the cast in civilian clothes alongside the fired directors doesn't count). Or a teaser. Give us something, guys!
I know that Ron Howard is busy in the editing bay making up for the lost time following months of reshoots on Solo — though apparently he had enough time to see Last Jedi — but it is a tad concerning that we've seen nothing. Like JoBlo points out, we got the cast photo for Rogue One a year and a half before that film came out.
But to tide us over while we wait for a trailer or the announcement that Solo: A Star Wars Story has been pushed back, Paul Bettany has some details for us. Bettany joined the project after Michael K. Williams could not return for reshoots, playing a mysterious "intergalactic gangster." But according to Bettany, he won't be the only gangster in this galaxy. He told Total Film:
It's Han Solo's story, and of course his story would be a caper. On one level it's a gangster movie. That's really interesting, because it's within the canon but really different. It's f**king Han Solo!
Howard shared a photo on set of Bettany in costume, dressed like some kind of classy criminal. it certainly seems like he won't be a fellow smuggler to Han, but probably a member of an organized crime group. His comments help reveal a little bit more of the story, which at this point seems to involve heists, shoot-outs, and speeder chases. But with a troublemaker like Han at the center of it, there's no other way it could go down.
Solo: A Star Wars Story is still slated for a May 25, 2018 release. It stars Alden Ehrenreich as Han along with Donald Glover, Woody Harrelson, Emilia Clarke, Thandie Newton, and Phoebe Waller-Bridge.