/Answers: Our Favorite Movies To Watch During The Holidays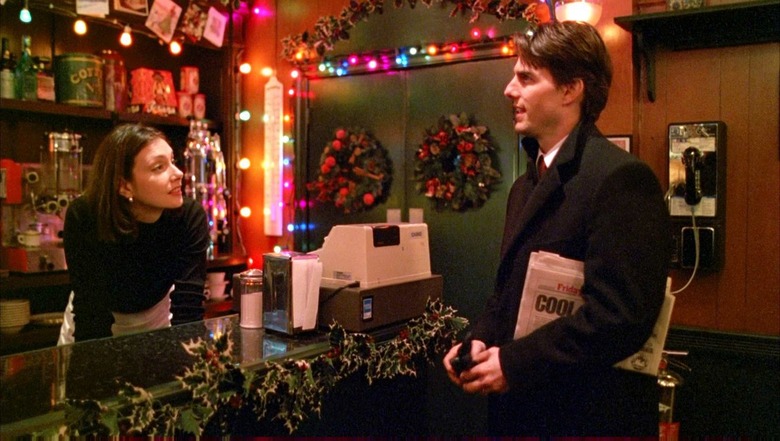 Every week in /Answers, we attempt to answer a new pop culture-related question. In this week's edition, we're ushering in the season by sharing the movies we always watch during the holidays, whether they're a holiday movie or not.
Chris Evangelista: Eyes Wide Shut
Is Eyes Wide Shut a Christmas movie? I suppose not in any conventional sense, but every holiday season I make sure to carve out 159 minutes to watch Stanley Kubrick's final film. Eyes Wide Shut features Tom Cruise and Nicole Kidman back when they were still married, here playing a wealthy married couple who are settling into the holiday season with parties, gift wrapping, and a general malaise.
Shit gets real, however, when, after an evening of pot smoking, Kidman's character tells Cruise she had a sexual fantasy about another man. Cruise's fragile manhood can't handle this admission of imaginary infidelity, and he stalks out into the streets of New York, Christmas lights and Christmas trees around every turn. His long night's journey into day lands him at a ritualistic orgy, where everyone is wearing masks and the music is creepy as hell.
What does any of this have to do with Christmas? Other than all the Christmas decor, not much. Yet this film, with its chilly-looking studio backlot streets standing in for New York, and its hazy cinematography courtesy of Larry Smith (Kubrick and Smith shot the film on discontinued Kodak film stock to achieve that that look) just invokes the holiday season for me. It doesn't really feel like Christmas is here until I watch the film.
Hoai-Tran Bui: Harry Potter and the Sorcerer's Stone
There's a reason the phenomenon known as ABC Family/Freeform's Harry Potter Weekends began with Christmas. Each of the films take place over the length of a school year, with the Christmas holidays often playing a pivotal part in the plot — or at least a pretty setting to which Harry can kiss the girl. But the holidays in Harry Potter and the Sorcerer's Stone gets higher marks than the other films because of the astonishment with which Harry reacts to it all: the magic, the trees, the presents, the prospect of having a caring family for the first time. It mirrors the wonder that I first had watching the film as a kid, seeing the wintry castle of Hogwarts brought to life on the silver screen as Hagrid drags a giant pine tree across school grounds. I was only a few years younger than Harry was when I watched Harry Potter and the Sorceror's Stone in theaters, enchanted by its lavish scope and slightly disappointed by the liberties it took from the pages of the book. I too wanted to celebrate Christmas at the hallowed halls of Hogwarts — only to return to the movie later and realize what a bittersweet two-punch Harry's whole Christmas episode is. Harry gets warmly welcomed into the folds of the Weasley family, only to later fall victim to the empty promises of the Mirror of Erised, showing his dead parents. It provides a stark reminder of the importance of family, even as Harry struggles to realize who his family truly is.
I watch Harry Potter and the Sorcerer's Stone at Christmas sometimes for this added layer of wistfulness, but mainly for the nostalgia — to feel as I did as a kid again, experiencing Harry Potter for the first time on the big screen. The series was a formative part of my childhood, and an experience that I inexorably associate with Christmas. Harry Potter always felt like coming home to me. And like Hogwarts, it will always be there to welcome me home.
Ethan Anderton: A Christmas Story
Yes, this is perhaps the easiest answer to the question. The movie is so beloved that there has been a 24-hour marathon of it every year for quite some time now. And every Christmas, I must watch this movie half a dozen times. Some people think this movie is cynical and misses the true meaning of Christmas, but that's kind of the point. This is the story of an average Midwest family's Christmas with all the flaws that come along with it. This is a family that doesn't always get along, with kids who fight and don't always do the right thing, and that's something we can all relate to.
While A Christmas Story gets a demotion simply because of the terribly racist use of Chinese characters at the end, their existence almost adds to the depiction of the flawed American family. They don't quite understand the customs of other cultures, so they laugh at the differences between Chinese people and themselves. That's not the most desirable quality in fictional characters (or more importantly, real people), but I think that's kind of the idea. In the kind of America we're currently struggling with, it's hard to swallow this kind of ignorance, but from my perspective, this movie is more satire than people think.
A Christmas Story is a purely American Christmas movie, for better or worse. If anything, there are lessons to be learned from this depiction of Midwest middle class. While this is a movie that can be cherished for nostalgic reasons, it's also a send-up of how American culture has commercialized a religious holiday.
Vanessa Bogart: The Muppet Christmas Carol
Every year on December 23, my family used to embark on the seven hour drive to Mawmaw and Pawpaw's house for Christmas. We were the super cool family that had the conversion van with TV and VCR and on that long drive at Christmas time, full of anticipation for the holiday ahead and the presents that awaited us, there were only two movies that we ever watched: The Nightmare Before Christmas which was a little bit more of a year 'round film (especially in my middle school Hot Topic days) and The Muppet Christmas Carol, which, with its humor, charm, and message of warmth and togetherness, left its merry imprint on me all the way into adulthood. It feels like Christmas.
There are few movies that fill me with such an unbridled feeling of pure, innocent, childlike joy as The Muppet Christmas Carol. The fusion of Charles Dickens and the Muppets made it just modern and funny enough to appeal to the whole family, while still keeping it timeless enough that it holds up 25 years later. Now we're older and Santa Claus has long since left the building, I find myself looking forward to our yearly viewing of The Muppet Christmas Carol, because it means that we have all finally arrived at Mom and Dad's house and it is officially Christmas.
All that Christmas joy aside, like the original untampered-with Star Wars VHS trilogy, our video copy of The Muppet Christmas Carol is a coveted possession, for it is the only version that contains the heartbreaking song, "When Love is Gone," which was mercilessly ripped from the Blu-ray release. If you ever want to know who the real life Grinch is, it is whoever made that decision. Even the vegetables don't like him. I digress. God bless us, everyone. Merry Christmas.
Jacob Hall: The Lord of the Rings Trilogy
From 2001 through 2003, my Decembers were defined by Peter Jackson's Lord of the Rings trilogy. Like clockwork, they arrived right before Christmas – a special gift that was projected on a screen rather than left under the tree. As a youngster, they were enthralling adventures, exciting films that got the blood pumping. So, naturally, they entered regular rotation and I made sure to watch them every December like clockwork.
Now that I'm 14 years older, I continue to revisit Jackson's remarkable trilogy in the weeks before Christmas, but it has taken on a different meaning. It's no longer just something I watch during the holidays – it has come to represent everything I want from the holidays. Not just because everyone in these movies is always feasting and eating (although that's nice, too), but because these are movies about decent people coming together to do the right thing in face of overwhelming evil. Young me loved these movies, but always thought Frodo and Gandalf and Aragorn could have used a sharper edge. But current me, older and wiser and more concerned about the horrors of existence then ever, finds comfort in a tale of noble, uncomplicated heroes simply doing the right thing, a tale of even the most forgettable people rising to the occasion because we sometimes must make sacrifices to protect those we love.
For me, coming together with friends and family isn't just a thing I do out of habit. It's something I do because it holds off the darkness. Lord of the Rings gets that. I wouldn't trade my own personal Fellowship for anything in the world.
Matt Donato: Gremlins
Apologies for all the pro-Gremlins talk around these parts in recent days, but what can I say? My favorite holiday horror movie is also my favorite movie to watch around the holidays (surprise). I've already stated "why" in my "Rank Off" throwdown against Mr. Rob Hunter – which you're encouraged to check out – and there's another nifty present coming your way that'll echo the same (on a much larger scale). 'Tis the season for Gizmo, Stripe and all the gang – a merry bout of madness that modern Hollywood will never replicate.
The reasoning is simple: I'm a genre guy through and through. My yearly Top 20 always seems to contain more horror flicks and thrillers than most. Same goes for my holiday watching choices. There's a time and place for Frosty, Hermey, those types, but when I want to let loose and soak in some (spiked) Christmas joy, a little darkness livens up the joint. Life ain't all candy canes and sweet coco. Maybe that's my cynical side talking, but you can't deny bad guys always have a bit more fun.
The thing is, Gremlins isn't just a horror story – it's everything we love about Christmas movies and genre rolled into one movie. Joe Dante finds Kingston Falls in the midst of small-town Christmas jubilance while his puppeteered creatures embody Santa's very definition of "naughty" without going full savage. You wouldn't use "terrifying" or "disturbing" to describe any scene, instead words like "mayhem," "zany" and "mischievous." It's responsibility taut, family-forward and has mean-old ladies getting launched out of second story windows. Everything the holidays need!
You can keep your Hallmark love stories where Mr. Wrong's December is saved when Mrs. Right waltzes into his life. I'll take Phoebe Cates' "Worst Christmas" monologue every time. Or Gizmo zoomin' around in his hot-rod. Or the barroom gremlins gettin' sloshed and rowdy. That doesn't mean I'm anti Christmas – praise be family brunch with Italian staples and mimosa pitchers – it's just that my seasonal escapism mocks commercialism and warped holiday mindsets. Plus Gizmo is just too damned lovable to deny. Another year, another revisit. Happy Creepsmas, y'all!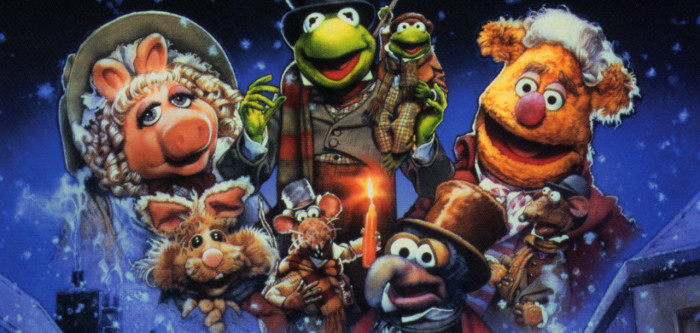 Previous Editions of /Answers