If Gandalf Returns For That 'Lord Of The Rings' TV Series, Ian McKellen Wants In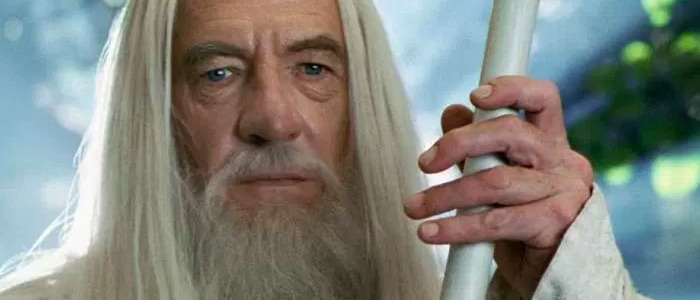 Amazon made headlines when they dished out a ridiculous amount of money to snag the rights to a Lord of the Rings TV series, and Ian McKellen wouldn't mind getting a little cut of that action. The actor, who played the wizard Gandalf in the Lord of the Rings trilogy (and also those bad Hobbit films) suggested that asking anyone else but him to play the iconic character, should he be featured on the LOTR series, would be a big a mistake.
Will Gandalf appear in Amazon's expensive new Lord of the Rings TV series? We don't know. There are very few details about the project at the moment. All we know is that Amazon shelled out a lot of money to nab the rights and that the show will be a prequel set in Middle-earth. If Gandalf does show up in the series, Ian McKellen wants the producers to know they better give him a call first.
Appearing on the Graham Norton radio show (via Variety), McKellen revealed that while no one has contacted him about playing Gandalf again, the thought of someone else playing the character is preposterous. "I haven't said yes because I haven't been asked," the actor said, "but are you suggesting someone else is going to play it? Who would be suitable?"
McKellen is 78 now, which might seem too old to be starring in a fantasy epic, but the thespian shot that notion down as well. "Gandalf is over 7,000 years old," said McKellen, "so I'm not too old." Of course, McKellen seems like he's mostly just joking around here about the whole thing, but I'm pretty sure if Amazon asked him to appear in the show he'd do it. Gandalf is clearly a part close to his heart.
The Lord of the Rings TV series is likely going to turn out to be the most expensive series of all time. Amazon put down something in $200–$250 million range for the rights alone and that's the price tag before development costs, casting, and production. The assumption is that the show will cost about $100-$150 million per season. That's a lot of money, but since Amazon CEO Jeff Bezos is officially the richest man in the world right now, he can afford it. He can also afford to hire McKellen for the show, should the show require him. Of course, if the new Lord of the Rings series wants to distance itself from the Peter Jackson films to forge its own identity, hiring McKellen or any other actor from the films might not be the way to go. We shall see.