NBC's Live 'Jesus Christ Superstar' Taps John Legend As Jesus Christ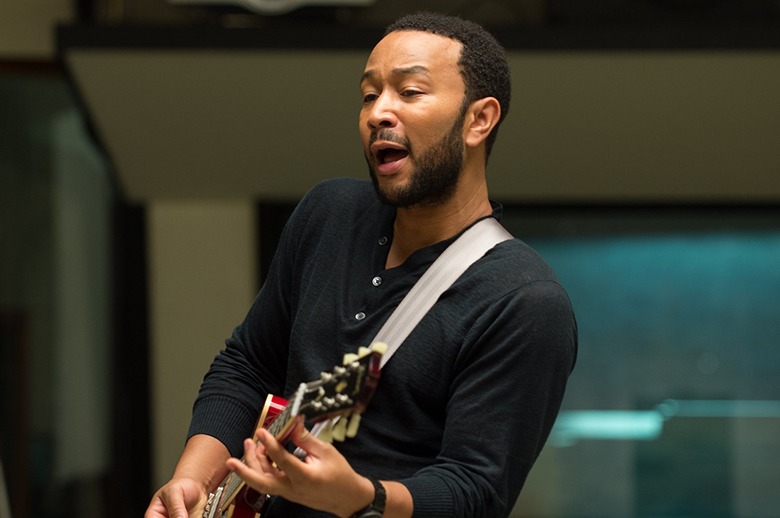 Jesus Christ Superstar has found its, well, superstar. The upcoming NBC live telecast has cast John Legend as the titular Jesus Christ in a move that is sure to shake up the show's premiere date of Easter Sunday.
But if anything, John Legend does fit the label of "superstar" quite accurately. A 10-time Grammy Award-winning singer, songwriter, producer who won an Oscar for his song "Glory" from 2014's Selma, Legend has also stretched his acting chops on both TV and film, most notably appearing in last year's Oscar-winning La La Land. Not to mention the Tony Award he nabbed for producing Jitney, the revival of August Wilson's play. Could Jesus Christ Superstar be Legend's ticket to the coveted EGOT?
NBC Entertainment chair Robert Greenblatt announced Legend's casting in the Jesus Christ Superstar live telecast, which follows the live TV trend that has been sweeping the primetime nation since NBC first debuted The Sound of Music Live! in 2013. In a statement to Variety, Greenblatt said:
"We're all overjoyed to have world-class musical artist and producer John Legend starring as Jesus. This score demands a singer with an amazing range and an actor with great depth, and there isn't anyone better to bring this story to a new audience. His casting is also groundbreaking as the traditional image of Christ will be seen in a new way."
Jesus Christ Superstar is based on the 1970 rock opera concept album, which was adapted into a Broadway musical in 1971. The story follows the last week of Jesus' life, ending with his crucifixion, and is entirely sung-through with no traditional dialogue. The NBC telecast will be produced by Craig Zadan and Neil Meron, who are behind all four of NBC's live musical productions, as well as Superstar creators Andrew Lloyd Webber and Tim Rice. Marc Platt, who helmed Fox's "Grease Live" last year and this Sunday's "A Christmas Story Live" staging, is on board as well.
The casting of an African-American actor in the title role of Jesus Chris Superstar is not unheard of — there's an all-black production of the Andrew Lloyd Webber rock musical in Chicago — but it's a bold move for a telecast that will broadcast nationwide. It puts Legend's version of Jesus Chris on the national stage, and will most likely rattle some cages in today's lightning rod of a political climate. But Jesus Christ Superstar has been dogged by controversy since its inception — getting banned in various countries for its "irreligious" messages — and there's no better time like the present for some radical casting of a telecast that will air this coming Easter Sunday.
Legend kept his statement fairly vague and diplomatic following the announcement of his casting, saying that he was "thrilled to join the cast of this production" which also stars rocker Alice Cooper as King Herrod:
"It's such a powerful, meaningful musical and I'm humbled to be part of this performance. We've already formed an incredible team, and, as we finish casting, I'm certain we will put together some of the greatest talents around to do this work justice."
Jesus Christ Superstar will premiere on NBC on April 1, 2018.