'The Room' Will Finally Receive A Wide Release Next Month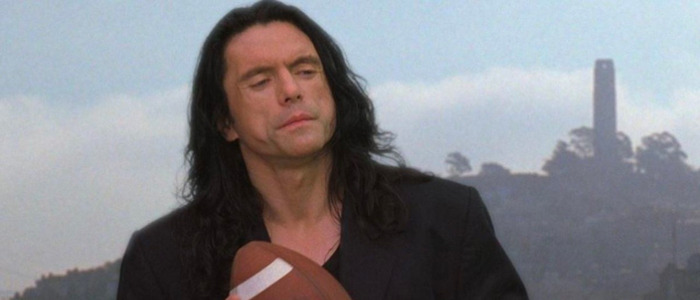 It took 14-and-a-half years, but Tommy Wiseau's deliriously bad cult classic The Room will finally be blessed with a wide release. Interest in Wiseau's trashterpiece has reached a fever-pitch following the buzz around The Disaster Artist, a comedic biopic that examines the making of one of the worst films of all time. More details about The Room wide release are below. Ha ha ha, what a story, Mark.
Never give up on your dreams, folks. Even if your dreams are kind of awful. After years of existing in cult-movie obscurity, Tommy Wiseau's truly terrible film The Room will finally receive a wide release. The Hollywood Reporter confirms that The Room will be released courtesy of Fathom, who will drop the film into 600 theaters on January 10, 2018, for a special one-day release.
A little over 14 years ago, Wiseau released The Room, a film he wrote, directed and acted in, in two theaters in Los Angeles. Very few people acknowledged the tone-deaf drama Wiseau had created, but little by little, The Room began to amass a cult following. People couldn't help but be won over by the utter ineptitude they were witnessing, and soon The Room had become something akin to a modern-day Rocky Horror Picture Show – the stuff of midnight movie legend, with a devoted group of fans initiating their friends into an ever-growing cult movement. Wiseau's film has recently come to mainstream attention following the release of A24 and James Franco's The Disaster Artist, a comedy that dramatizes the making-of The Room, with Franco turning in a surprisingly fantastic performance as the utterly strange Wiseau.
"It's really great because it's going to tackle the other areas where people aren't aware of the room still," said Wiseau on the heels of the wide-release news. "I've never called it a cult phenomenon, or whatever they call it," the enigmatic filmmaker added. "I call it a free expression, that's what The Room represents. I encourage people to express themselves in the screenings. A ton of people ask me, 'Why do you encourage that?' I say, 'Why not?' What I wanted was to give them a smile and it's their choice if they want to express themselves." Wiseau also added this on Twitter:
14 1/2 years ! Never give up ! https://t.co/eHYWgLPRUX

— Tommy Wiseau (@TommyWiseau) December 19, 2017
The 600-theater screenings will all begin at  8 p.m. local time; you can purchase tickets here.
Wiseau says that, in addition to this wide release, he plans to attempt a screening at the Hollywood Bowl on June 24, 2018, to mark the film's 15th anniversary. If you've somehow never seen The Room, and have yet to see The Disaster Artist, this compilation video should give you a pretty idea of what the film is like.