New 'Early Man' Trailer: Eddie Redmayne's Caveman Rocks The Bronze Age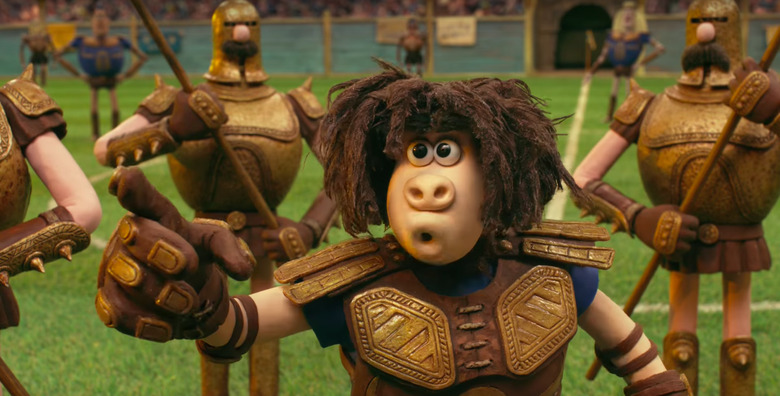 In an era where we're inundated with mostly identical CG animation, it's always a breath of fresh air when Nick Park arrives back on the scene. The creator of Wallace & Gromit and Chicken Run, Park's distinct stop-motion style of animation is always something we welcome with open arms.
This is the third trailer we've seen for Early Man, but it's a treat for the eyes once more. Not just in the painstaking detail given to each character and piece of animation, but for the new gags that are scattered throughout the latest international trailer.
Early Man Trailer
We get an extended peek at the plot for Early Man, which follows caveman Dug (Eddie Redmayne) as he stumbles into an advanced Bronze Age city that threatens to destroy his plucky tribe residing in a plentiful valley. Declaring war against the smug Lord Nooth (Tom Hiddleston), Dug teams up with his sheep sidekick Hognob and Bronze Age city resident Goona (Maisie Williams) to defend his tribe.
It's not all pointy spears and rocks, however. This being a wacky animated film that glosses over its exact time period, there are plenty of anachronistic gags, like the unusual amount of soccer being played by the Bronze Age city residents — a much more pleasant substitute for gladiatorial rings — as well as a funny bit with sliding glass doors. And the sheep-ram thing plays a harp! Hilarious!
Early Man is directed by Nick Park and written by Mark Burton and John O'Farrell. Its cast is rounded out by Timothy Spall, Richard Aoyade, and Mark Williams.
Here is the synopsis for Early Man:
EARLY MAN is the new prehistoric comedy adventure from four-time Academy Award® -winning director Nick Park and AARDMAN, the creators of WALLACE AND GROMIT and SHAUN THE SHEEP. Shot in Aardman's own distinctive style, the film will take audiences on an extraordinary journey into an exciting new world unleashing an unforgettable tribe of unique and funny new characters voiced by an all-star British cast. Set at the dawn of time, when prehistoric creatures roamed the earth, EARLY MAN tells the story of courageous caveman hero Dug (Eddie Redmayne) and his best friend Hognob as they unite his tribe against a mighty enemy Lord Nooth (Tom Hiddleston) and his Bronze Age City to save their home.
Early Man is set to hit theaters on January 26, 2018.