'The Office' Revival Picking Up Steam At NBC For 2018-2019 Season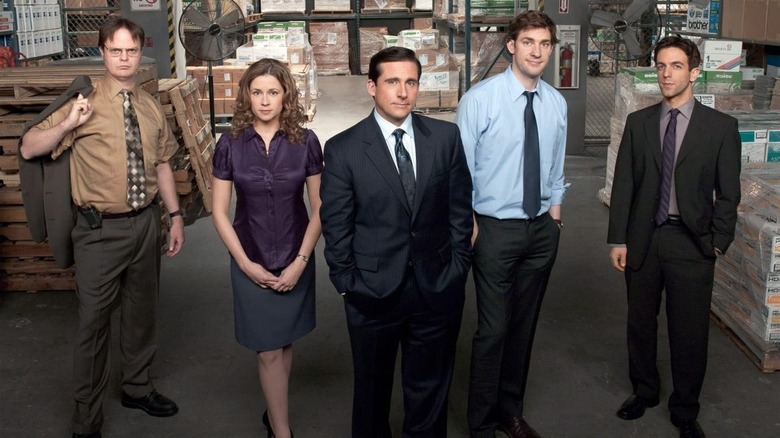 For nine seasons, NBC's The Office did the impossible – it escaped the shadow of the original (and brilliant) BBC series that inspired it, found its own voice, and established itself as one of the best television comedies of the '00s. While it stumbled, as all shows that run for nearly a decade tend to do, it was a silly and sincere show whose fingerprints can still be felt on television comedies being made today.
And now, it sounds like NBC is getting serious about bringing it back, because no great shows are allowed to rest in peace these days.
According to TV Line, NBC wants to get their The Office revival ready for the 2018-2019 season. Original star Steve Carell (who left the show in season 7) will not be returning and the cast will be "a mix of new and old cast members."
Since John Krasinski is off trying to become an action star and Ed Helms has a fairly busy career on the big screen, it's hard to imagine them coming back. But Rainn Wilson, B.J. Novak, and the rest of the Dunder-Mifflin crew who slowly grew from background characters to fully fleshed out human beings we learned to love certainly seem like likely candidates to pop back up and remind us that not everyone can escape their dead-end corporate job at a paper company.
We first heard rumblings of a The Office revival a few months ago, when NBC Entertainment chairman Bob Greenblatt made his intentions to bring the show back very clear:
We often talk about The Office, I've talked to [creator] Greg [Daniels] four times over the past few years. It's always, 'Maybe some day but not now.' There is certainly an open invitation but we don't have anything happening right now. If he wants to do it, I would do it."
I'm hesitant about a new version of The Office for two key reasons. First, the series ended quite well, with a finale that did justice to the sprawling cast and acted as a big warm hug for everyone who stood by these characters for nine seasons. Second, the show got awfully dire after Carell left and the show struggled to find a new voice. It pulled out of its nosedive in the homestretch, but only because ending things seemed to give everyone a new sense of purpose. I'm not convinced there is more humor to be mined from this concept, especially since spiritual sequel Parks and Recreation already feels like the core tenants of The Office being taken to their next logical place.
If this comes together (and it probably will, since reviving dead shows is just a thing that happens these days), we'll probably know more soon.