'Sicario 2: Soldado' Trailer: Josh Brolin And Benicio Del Toro Are Back In The "More Severe" Sequel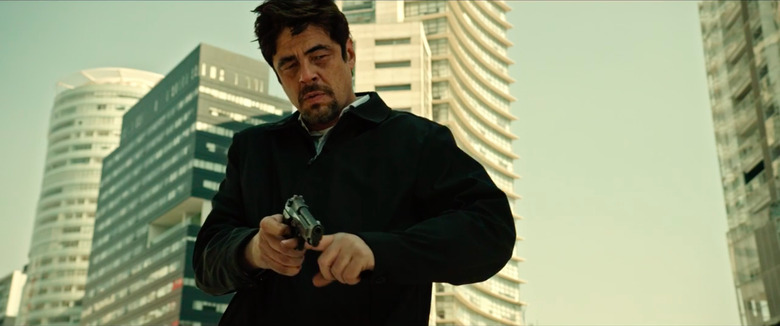 Sicario was one of 2015's best films, a tense thriller that turned a ruthless and critical eye at the drug war between the United States and Mexico, grounded by Emily Blunt's idealistic young FBI agent, Kate Macy. Sicario 2: Soldado moves to tell a continuation of that story, but without the defining features that made Sicario so great. But hey, at least Josh Brolin and Benicio del Toro are back.
The first trailer for the Sicario sequel, clunkily titled Sicario 2: Soldado, reintroduces Brolin's compromised FBI agent Matt Graver and his wary ally Alejandro, the revenge-driven former cartel member, as they are tasked with kidnapping a kingpin's daughter.
Sicario 2 Trailer
Let me say it first here: This looks like a direct-to-DVD action film. That's not to say the production value is bad, or that Brolin and del Toro are phoning in their performances. There just doesn't seem to be any heart to the movie — it looks like a sequel that was made out of obligation rather than a passion for the story. It's wholly felt in the absence of Emily Blunt, who acted as an audience surrogate in the film as well as the ultimate failed moral compass. She came into the war on drugs expecting to make a difference, only to find a corrupt superior agent who had teamed up with a skilled hitman who was essentially a wild dog — so bent on revenge that he would stoop to any means to get the job done. It was a horrifying and eye-opening experience for Kate Macy...and for anyone who went to see Denis Villeuneuve's quietly brutal original film.
Sicario 2: Soldado, meanwhile, opts for a more standard storyline, in which Graver and Alejandro kidnap a kingpin's daughter (Transformers: The Last Knight's Isabella Moner) in what feels like a more glorified depiction of the drug war.
Here is the synopsis for Sicario 2: Soldado:
FBI agent Matt Graver teams up with a former member of a Mexican drug cartel to kidnap a kingpin's daughter.
While screenwriter Taylor Sheridan returns for Sicario 2, the sequel is firmly under the hands of Suburra director Stefano Sollima. This time, the sequel focuses on Benicio del Toro's Alejandro, who was a force of nature in the first film. In an interview with Entertainment Weekly, del Toro describes how they expanded upon Alejandro's character, who ostensibly got the revenge he sought at the end of Sicario:
 Let me put it this way, the characters in this one really try to think on their toes, to react in the spirit of the moment because of complications. When I think [about] Sicario, there were moments like that but they were under control, they had everything under control beforehand. In this point in time, they do as well, but then things start to not happen as planned, let's put it that way.
Sicario 2: Soldado is set to hit theaters on June 29, 2018.