'Star Wars: The Last Jedi' Backlash Gets A Response From Director Rian Johnson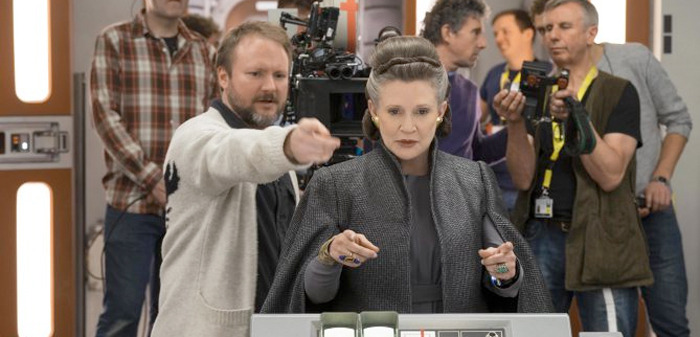 People have a lot to say about Star Wars: The Last Jedi, and they're making sure to let Rian Johnson know exactly what they think about his entry into the Star Wars saga.
The newest Star Wars film has received an inordinate amount of backlash – The Last Jedi was ripped to pieces by many fans soon after its premiere last week. The criticism can be traced to several reasons: there was too much humor, there were too many subplots, there wasn't enough heroic Luke, etc. But the main reason is that Johnson took a radical approach to a Star Wars film, and threw everything we knew about the sci-fi franchise out the window. Naturally, that would make a few people Angry Online. And now Johnson has finally addressed the wave of backlash surrounding The Last Jedi.
I've written plenty about how the fan backlash to The Last Jedi has turned into a toxic black hole from which only ridiculous online petitions emerge and valid criticisms go to die, but the worst part of the backlash is that it unreasonably targets Rian Johnson himself.
For the past few days, Johnson's Twitter account has been the subject of harassment and attacks from fans who only share the same passion for Star Wars as he does. Johnson has remained mostly silent about the backlash, but in an interview with Business Insider, Johnson responded to the fans decrying his film:
"Having been a Star Wars fan my whole life and having spent most of my life on the other side of the curb and in that fandom, it softens the blow a little bit. I'm aware through my own experience that, first of all, the fans are so passionate, they care so deeply, sometimes they care very violently at me on Twitter. But it's because they care about these things and it hurts when you're expecting something specific and you don't get it from something that you love. It always hurts so I don't take it personally if a fan reacts negatively and lashes out on me on Twitter. That's fine. It's my job to be there for that."
"...every fan has a list of stuff they want a Star Wars movie to be and they don't want a Star Wars movie to be. You're going to find very few fans out there whose lists line up. And I also know the same way the original movies were personal for [George] Lucas. Lucas never made a Star Wars movie by sitting down and thinking, 'What do the fans want to see?' And I knew if I wrote wondering what the fans would want, as tempting as that is, it wouldn't work because people would still be shouting at me, 'F— you, you ruined Star Wars,' and I would make a bad movie. And ultimately that's the one thing nobody wants."
Johnson is a better person than I am, taking the brunt of the backlash as all part of his job. But the director at least stands by his work — which is phenomenal for all the reasons that Jacob Hall says in his piece about Last Jedi — and refuses to bend to the whims of the fans. Johnson obviously cares about Star Wars as a fan and a filmmaker, but approaches the series as a filmmaker first, and that's admirable. Getting shouted at online is hard, but creating something new and different is harder.
But you don't have to worry too much about Johnson. Last Jedi is set to make a lot more money and he has a new Star Wars trilogy in the works. Plus, he's gotten plenty of positive feedback as well.
"And let me just add that 80%-90% of the reaction I've gotten from Twitter has been really lovely. There's been a lot of joy and love from fans. When I talk about the negative stuff, that's not the full picture of the fans at all."