'The Nutcracker And The Four Realms' Trailer: Disney Gives The Classic Ballet A High-Fantasy Makeover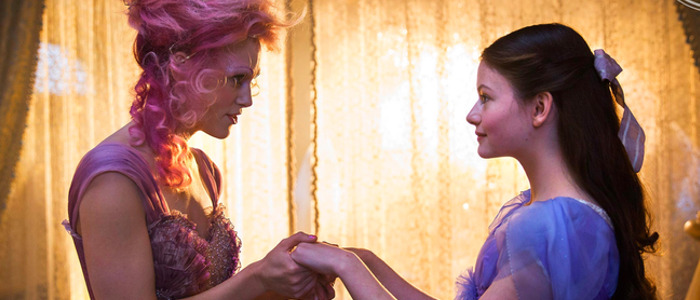 Finally, the moment we've all been waiting for: someone turned The Nutcracker into a fantasy adventure film. Disney's The Nutcracker and the Four Realms updates the classic story of The Nutcracker into an adventure movie from director Lasse Hallström. The first The Nutcracker and the Four Realms trailer has arrived just in time for the holidays.
E.T.A. Hoffmann's 1816 story The Nutcracker and the Mouse King has been famously adapted into a ballet by Pyotr Ilyich Tchaikovsky, as well as several film adaptations. Now, the story is getting the big Disney treatment with The Nutcracker And The Four Realms, a special-effects heavy fantasy take on the material. Salmon Fishing in the Yemen filmmaker Lasse Hallström helms this take on the material, with a cast that includes Mackenzie Foy (Interstellar), Keira Knightley (Atonement), Eugenio Derbez (Geostorm), Miranda Hart (Spy), Jack Whitehall (Mother's Day), ballet dancer Misty Copeland, non-ballet dancer Morgan Freeman, and Helen Mirren.
The Nutcracker and the Four Realms Trailer
In this fantasy-film take on the story, Foy plays a girl named Clara, who ends up in the magical realms that include the Land of Snowflakes, Land of Flowers, and Land of Sweets on a search for a magic key. Knightley is playing the Sugar Plum Fairy, and Mirren is playing a character named Mother Ginger, who rules over the Fourth Realm.  "She's a fierce character," Mirren told Entertainment Weekly in a first look piece on the film, "with a modern edge."
It's clear that Disney is going for a Chronicles of Narnia meets Tim Burton's Alice in Wonderland take on the material here – that subtitle "and the Four Realms" practically screams it. Here's the official synopsis:
A young girl is transported into a magical world of gingerbread soldiers and an army of mice.
Oh boy, we've all been there, right? Don't get me started on worlds of gingerbread soldiers and armies of mice, folks. Please.
The production on The Nutcracker and the Four Realms has had a bump or two. A few days ago, it was reported that The Rocketeer director Joe Johnston was brought in to handle reshoots on the film. While this might suggest that there are behind-the-scenes problems that have sidelined original director Hallström, reports indicate that Hallström isn't involved with the reshoots due to scheduling difficulties. The director is still expected to be involved with the film's post-production.
"The film is in very good hands in London while I'm away," Hallstrom said in a statement to The Hollywood Reporter. "I will return to postproduction after the holidays."
The Nutcracker and the Four Realms opens November 2, 2018.