Paramount Sets Dates For New 'G.I. Joe", 'Dungeons And Dragons' And More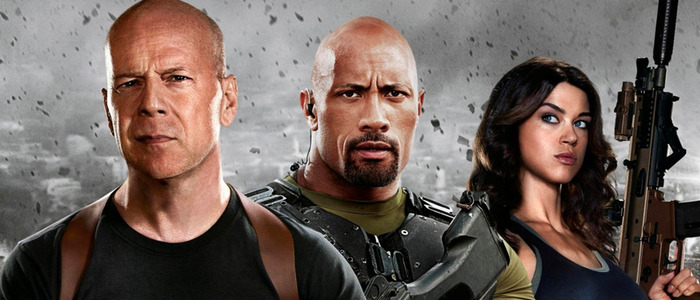 If you woke up today and thought, "I could go for some news about movies based on toys and games," rejoice: Paramount Pictures just announced a slew of dates for several toy-and-game-based movie adaptations, including a new G.I. Joe movie, Dungeons and Dragons, Micronauts, and an untitled Hasbro film. Happy Hasbro Movie Date Announcement Day, everyone!
Paramount Pictures is going all-in on Hasbro. Back in November, Paramount and Hasbro, Inc. struck a deal to team up to produce and distribute content based on Hasbro brands. The two companies originally had a deal for just Transformers and G.I. Joe films, but this new deal gave them a chance to create even more properties, including new original stories. Now Paramount has announced a slew of dates for new films related to this deal: a third G.I. Joe film will hit theaters on March 27, 2020; Micronauts will arrive October 16, 2020; Dungeons and Dragons will be released on July 23, 2021; and an Untitled Hasbro Film will soon follow on October 1, 2021.
Paramount already produced two G.I. Joe films: G.I. Joe: The Rise of Cobra in 2009, with Joseph Gordon-Levitt, Marlon Wayans, Channing Tatum, Dennis Quaid and Sienna Miller; and G.I. Joe: Retaliation in 2013, with Tatum, Dwayne Johnson and Bruce Willis. Will this new G.I. Joe movie be a continuation of this series, with some of these cast members returning, or will it reboot everything and start fresh? My money is on the latter, but we'll see. Back in 2015, there were rumors of a shared G.I. Joe film universe being created, then in 2016 word came that a new G.I. Joe film was being halted due to Dwayne Johnson's very busy schedule. Johnson's schedule has only grown more full since then, so I'll be surprised if he turns up in this new film.
A Micronauts film, inspired by the science-fiction toyline of the same name, had been mentioned as part of the G.I. Joe shared universe, and in 2009 there were rumors that J.J. Abrams might produce a film based on the toys. New Line Cinema put out an abysmal Dungeons and Dragons film back in 2000, but I'm sure everyone would rather just forget about that. Baby Driver star Ansel Elgort had been announced as attached to a new Dungeons and Dragons movie last year; whether or not he's still involved remains to be seen.
As for what that Untitled Hasbro Film could be, your guess is as good as mine. It's unlikely that this is a new Transformers movie, or else it would've been listed as Untitled Transformers Sequel. There are a ton of properties owned by Hasbro to pick and choose from, but maybe we're finally going to get the big budget Scrabble movie we've all been dreaming of.