Netflix 'Bright' Featurette Showcases The Practical Effects Of David Ayer's Orc Cop Film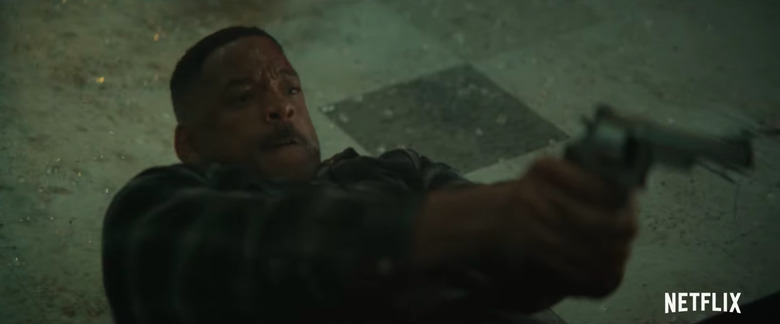 You can't have a Will Smith movie without blowing up a few buildings and David Ayer's Bright promises to do just that.
The new Netflix film has been touted as a gritty urban fantasy, where humans and orcs are entangled in a bitter species war on the streets of Los Angeles. Clunky race metaphors aside, Bright promises to be another explosive, adrenaline-pumping Will Smith cop movie — with some magic wands and creepy costume design thrown in. A new Bright featurette explores all of the above.
Bright Featurette
The last couple of Bright trailers have focused on the buddy-comedy dynamic between Will Smith's seasoned human cop Daryl Ward and Joel Edgerton's rookie Orc cop Nick Jakoby. They banter, they bicker, and then they come upon a magic wand that has power equal to a "nuclear weapon" and all hell breaks loose. The grim streets of LA get torn apart as different factions vie for the wand, including Prometheus' Noomi Rapace's villainous dark elf Leilah, who finally got to speak in the last trailer. She gets even more of a spotlight here — because why would you waste Noomi Rapace?
But the biggest spotlight in this featurette is the action. "The thing about David is he demands that everything's practical," Will Smith says in a behind-the-scenes interview.
One of the biggest practical set pieces is a pivotal fight scene in a gas station convenience store, where veteran Smith faces off against a car and several of Leilah's elf minions.
"We had the rain going, smoke and there's squibs," Ayer describes. "There's always a risk involved in it. And then we have Will Smith in the middle of it, and he actually did some really amazing things. And then we ended up blowing the whole thing up."
Will Smith has had an illustrious career, bouncing from summer tentpole action films to prestigious Oscar fare. But in a movie where he plays a cop that spouts lines like "All fairies aren't created equal," yeah, there better be some explosions.
Here is the official synopsis for Bright:
In an alternate present day, humans, orcs, elves and fairies have been coexisting since the beginning of time. Two police officers, one a human, the other an orc, embark on a routine night patrol that will alter the future of their world as they know it. Battling both their own personal differences as well as an onslaught of enemies, they must work together to protect a young female elf and a thought-to-be-forgotten relic, which, in the wrong hands, could destroy everything.
Bright premieres on Netflix on December 22, 2017.