'Star Wars: The Last Jedi': Carrie Fisher Wrote Leia's Emotional Final Lines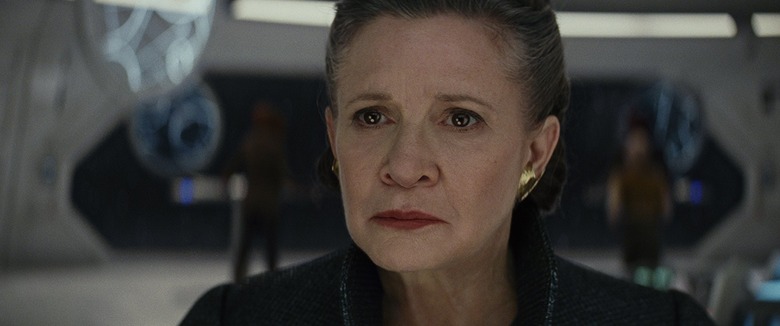 Carrie Fisher was many things over the course of her career: actress, writer, princess, general, and of course, script doctor. Over her 30-plus year career, she edited countless scripts and worked with a variety of renowned directors in the process.
Fisher began rewriting her lines during the first Star Wars trilogy, so it seems only fitting that the last script she would work on would be her final Star Wars film.
Major spoilers ahead, of course.
Eventually, rewriting her own lines would propel Fisher to a 30-year career working behind-the-scenes in Hollywood as a script doctor, one of the most overlooked and undervalued aspects of her legacy. But long after she's gone, Fisher will always be there to remind us — with a witty barb and a middle finger, probably — that she's still got it.
Fisher may have officially stopped working as a script doctor in the early 2000s, but she picked up the old pen and paper again to help director Rian Johnson write Star Wars: The Last Jedi. What parts was she responsible for? None other than Leia's final lines.
It's during the emotionally loaded reunion between Luke (Mark Hamill) and Leia — the first scene the two siblings had together since 1983's Return of the Jedi, and regrettably, the last. Luke wordlessly enters the bunker on Crait, in which the remainders of the Rebels are holed up, Leia staring at him with an inexplicable emotion written on her face. Finally she breaks the tension: "I know what you're going to say – I changed my hair."
No surprise: That line was written by Fisher, Johnson told The Daily Beast. "She is a brilliant writer, an incredible mind...She loved one-liners and jokes. She could just pop out so many jokes."
It wasn't just a few lines that Fisher improvised. She took an active part in Johnson's writing process, with the young director looking to the experienced script doctor for advice.
"I would go to her house. We would sit on her bed for hours and go through the scripts. We would have these stream of consciousness jazz poetry kinda ad lib sessions. I would just scribble on my script everything she said, and at the end of six hours, there would be like a four-word line of dialogue that was the distillation of all of that that was brilliant."
The goodbye scene between Leia and Laura Dern's Admiral Holdo was also a joint effort from the two actresses. Dern wanted to voice the admiration she had for Fisher and what she did for a whole generation of girls as Princess, and now General, Leia.
"So much loss," Leia says at the prospect of losing yet another lifelong friend. "I can't take any more."
"Sure you can," Holdo says, smiling sadly. "You taught me how."
"And then they both say, 'May the Force be with you, always' together," Johnson said to The Daily Beast. "That was Carrie, too."