How 'Twin Peaks' Prepared Laura Dern For 'Star Wars'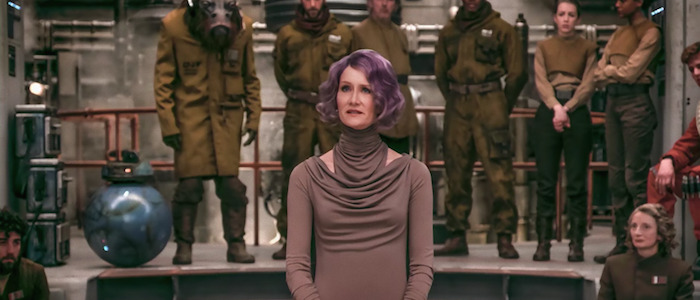 After a grueling day of over 12 hours of press for Star Wars: The Last Jedi, Laura Dern nursed a cup of coffee and settled in for an extended chat with a very different crowd: the Film Society of Lincoln Center. The event took place at 8:00 P.M. on Thursday, December 14, meaning everyone in attendance had deliberately foregone taking in the first showing of the new Star Wars movie.
But there was still plenty of chatter surrounding her role as Vice Admiral Amilyn Holdo, the flashy topper on not only a great year, but a great set of years. After a relatively quiet first decade of the 2000s, Dern has reestablished herself as a titan of both the small and silver screen. In 2017 alone, she won an Emmy for her fierce portrayal of Renata Klein in HBO's Big Little Lies, reunited with her longtime collaborator David Lynch in Showtime's Twin Peaks: The Return, and now features prominently in what will almost assuredly become the year's top grossing film.
While the Film Society of Lincoln Center dedicated an entire day of programming to some of her early works (Joyce Chopra's Smooth Talk, David Lynch's Wild at Heart and Alexander Payne's Citizen Ruth), her 90-minute talk focused exclusively on her work over the past few years. The wide-ranging discussion covered how she landed some of her recent roles, her experiences working with an eclectic set of directors and some of her thoughts on the industry at large.
The Journey to Star Wars
Dern said she found it quite easy to abide by the strict rules of Star Wars spoiler culture thanks to preparation she received over 30 years ago:
"I can say how lucky I am to have found David Lynch at 17. When I first met him and had to do press for him differently than other directors, preceding that, he said, 'Your job is to tell them NOTHING!' So it was a seamless transition into Star Wars."
Dern grew up a big fan of the Star Wars series and she recounted how The Last Jedi writer/director Rian Johnson approached her to journey to a galaxy far, far away:
"One of my favorite memories of talking to a filmmaker is that I was asked to lunch by Rian Johnson [...] I had seen his film Looper, which I thought was quite brilliant and he was an interesting independent filmmaker. He had written a role that he was interested in talking to me about and had thought of me as he was writing, which is a great compliment. He described the role as complicated, powerful woman in a position of power in which there is a deep grey area. Whether she is light or dark, and what her real moral compass is. I was like, 'Oh, this sounds like my kind of part!' And he said, 'You know in this world, Star Wars...' I said well, 'That's so interesting, imagining this kind of contained film in that world, sort of like space, meaning it's boundary-less.' And he said, 'No, no, no. It is Star Wars!'"
While the Internet has gone gaga over the novelty of "Space Dern," the look of Vice Admiral Holdo was very deliberately designed to put Dern's gender front and center:
"In considering what she should look like, Rian is so brilliant and subversive in a really beautiful way [...] it was really important to him that we create a really feminine leader and what that might do to everyone around her. The hair, the space jewelry, the dress... [I worked with costume designer] Michael [Kaplan], Kathy Kennedy was very involved, Ram [Bergman] his producing partner since they started in independent film. Everyone weighed in, but I loved the idea that this position of power, this female powerful leader, immediately throws people off because she comes in looking like a woman and not like one of the boys. It's a great starting place in space."
Without giving away the details of the time they share on screen, Dern also spoke movingly about the time she spent with Carrie Fisher:
"She's incredible. As much as you might try to attempt in your art to let go of the veil and try to be your most authentic self, there is no greater teacher than Carrie. Reflecting on this last year, Wonder Woman being one of the films where people were in awe of a complicated, dynamic female superhero, to think back on the mid-'70s, Carrie Fisher gave us a complicated, sassy, brazen, angry, beautiful female superhero. It's just remarkable. Having been around her, she leads with an unapologetic self. That is who she presented to the world. And her own complications as a person, in her writing, she was extraordinary. Regardless of what you think is honest, the minute Carrie enters into the room, she requires that level from all of you. It changes the entire space that you're in. It's very beautiful, and I feel privileged."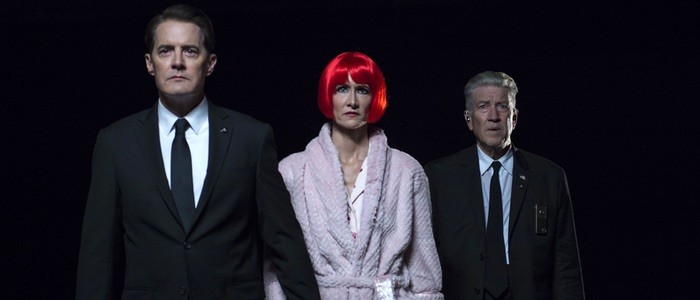 Working With David Lynch
"Maybe I'm weird," Dern replied when asked about why she opted to work with artists like David Lynch and Peter Bogdanovich in the '80s while her teenage peers headlined films for John Hughes.
In her capacity as one of the few people to speak Lynchian dialogue fluently, she sums up his work as "honest and simple and totally off-kilter and the ultimate dive into the shadow [...] David holds equally true the genuine and the insane." When asked her thoughts on Twin Peaks: The Return, Dern sang the praises of her director:
"I think David Lynch is our greatest artist working. Everything that I've had the privilege being part of, it can take a decade for people to catch up and have deep gratitude for it. But if we're looking for the boundary breaker and someone who is exploring cinema and sound and music and character and fine art into this medium, with not only zero boundary but zero consideration for if it's going to work, is there an audience for it, will it be seen, how do we present it. He's just in it. And I'm so grateful to get to work around someone like that. He comes from the purest place. And he learns every day, and he wants to push himself. And he makes art every day."
As an actor with the privilege to work for many great directors on a continuing basis, and others just on a one-off project, Dern says that relationship with Lynch allows for a particularly special kind of working relationship:
"I think there are a few where you get each other in a very specific kind of way where there needs no language. That's the best. But with that said, there are filmmakers who know exactly what they want, and it's the greatest inspiration in the world. Paul Thomas Anderson [her director in 2012's The Master] knows exactly what he wants. He's meticulous and an insane inventor like nothing you've ever seen, and that's also extraordinary and a different energy. I don't know that actors change what they do, but maybe they pretend to listen to people? David is just so particular because he knows me so well and only gives me one word direction. He'd kill me if I tried to have a conversation about the character. He's like, 'I need wind.'"
Like everyone else watching, Dern had little idea where Twin Peaks: The Return was going on a week-by-week basis:
"There were a few storylines where David showed me some scenes early on, and I watched the filming of a few specific things. I had some friends who were musicians that did some of the pieces in it. I got to be around a lot of it to know where it was going, but specifics of scripted pages, there was so much I didn't know [until air]."
Lynch was apparently plugged into fan reaction to the show enough to send Dern this meme of her character Diane: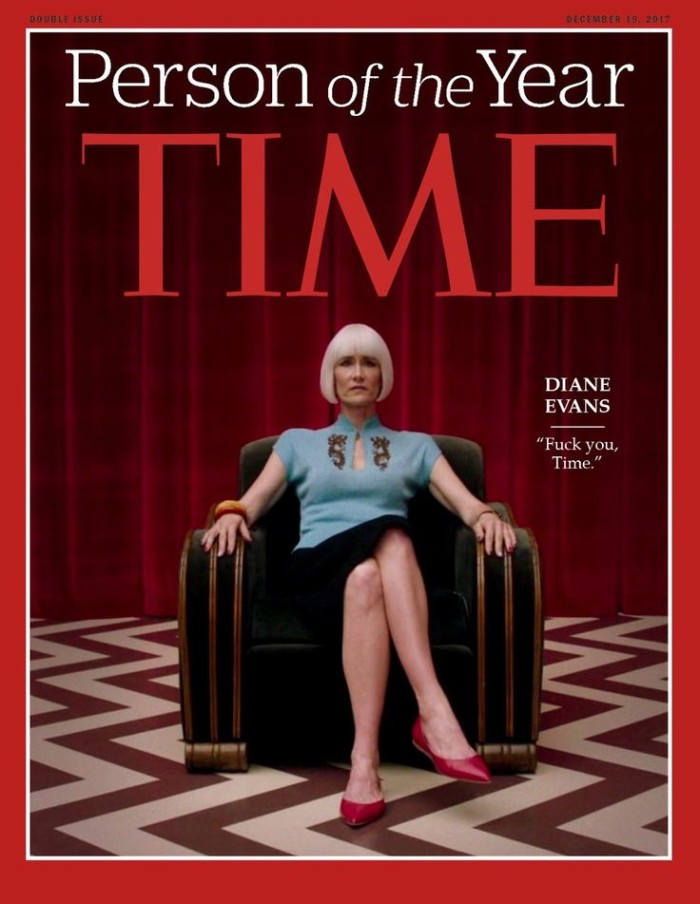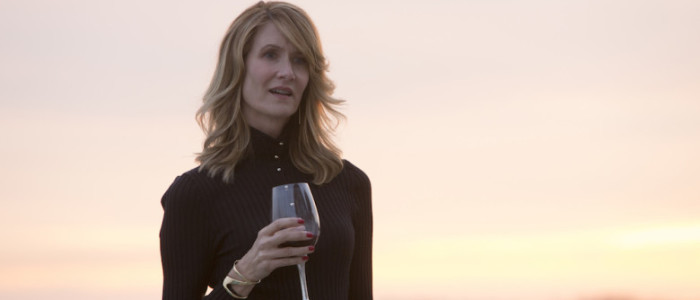 On Acting
When asked the age-old question of how she picks a part, Dern mentioned one key aspect linking projects both large and small:
"I respond to people writing what they know, in terms of my favorite writers. I think that's always profoundly important. I love the duality, whether it's in Star Wars or Citizen Ruth, inside both the characters and the plot itself. David Lynch, all the directors that I've worked with are interested in the grey, not black and white [...] I feel like that's a great place to lead with our authentic selves."
Dern said she continues to hone her craft, and an experience on the set of Kelly Reichardt's art-house darling Certain Women has ripple through her acting:
"The film opens with my lover and I in bed together. As he started to put his clothes on, I reached out to put my foot to rub his back. She [Reichardt] said, 'You don't need to do that. You don't need to do anything.' I was like, 'I'm just putting my foot out to feel his back.' She said, 'Yeah, you don't have to do that.' Everything is so pure. Every moment has stillness in it, and she's not looking for the narrative to be explained on any level. I've played a number of people who feel things in an enormous way, and that was a little uncomfortable for me. Particularly my character of the three women in the story, everything is incredibly restrained. I'm really grateful to her because it taught me a lot that I since have probably not succeeded in taking with me in the last year and a half since I worked with her. You know, while looking at R2D2, being restrained and not like 'Holy shit, you're R2D2!' Which is probably better for the movie."
Despite a career spanning over four decades, Dern still feels like her skills do not translate well to the audition and rehearsal process:
"If people were basing talent on auditions or rehearsals, I would not work. I don't know how to figure it out that. I guess I've failed upward at finding directors who don't require me to show what I'm going to do. I like being in the discovery process until we're in it, and again, that's the elusive nature of film and the way the directors worked that my parents worked with when I was a kid. It feels safer and more interesting."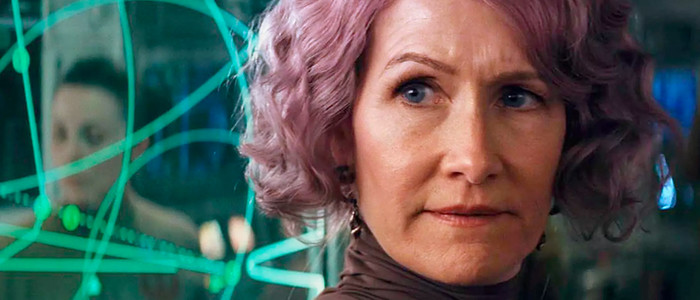 How to Fix the Film Industry for Women
From a young age, Dern knew the challenges of being a woman in the film industry. Her mom, Cheryl Ladd, even used it as a reason to discourage her from pursing acting. "'For every 30 parts a man gets, there's only one part for a woman! And look around, there ain't one woman on the crew!' And she was right, but we're changing that."
Rather than merely offering lip service to making the necessary changes in the industry, Dern provided a detailed summary of her efforts to make film sets more equitable:
"Our greatest opportunity beyond harassment and assault, as shockingly prevalent as it has always been and is being focused upon thanks to many brave voices who have learned they are not alone. Beyond that, we're all looking at abuse of power. There's been an erosion from zero tolerance to, again, acceptance. We've heard this terminology of '50/50 by 2020' [an initiative to reach gender parity in professional leadership]. I know that I have to be as accountable as any. When I was 11 on a movie set, men were doing my makeup and hair, men were my crew and maybe one other girl was there saying three lines in the movie. That was the norm. And I don't accept that anymore. I'm a governor of the Academy, and I'm working very closely with the Screen Actors Guild as well as all the unions now to create a database that we'll all have access to. Both in the area of women at work, diversity, people of color – if you're doing a movie in Atlanta, you can go, 'What second seconds are available in Atlanta who are female or a person of color?' There have been too many movies where I accepted the answer, 'We'd love a female director, but there are only three working and they're all unavailable. There are no women DPs, Laura.' That is no longer true, and we can all educate ourselves, so when we ask for a DGA trainee, we ask specifically to support diversity on set and see the shift that we're all looking for."
Star Wars: The Last Jedi is now open in theaters.