Russo Brothers Will Produce 'The Electric State' For 'It' Director Andy Muschietti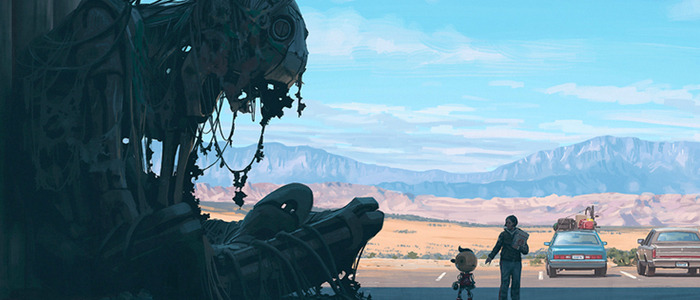 The Russo Brothers just won a bidding war for the rights to the sci-fi story The Electric State. The plan is to bring It director Andy Muschietti on board to the direct the film, with Muschietti's producing partner Barbara Muschietti involved as well. The illustrated novel tells the story of a girl and a robot traveling through an alternate 1990s United States.
Andy Muschietti directed one of 2017's biggest hits, a surprisingly excellent adaptation of Stephen King's It, and now he might have his next project lined up, with some pretty big producers backing him. Deadline reports that Avengers: Infinity War directors Joe and Anthony Russo, through their Russo Brothers Studio, have just acquired the rights to Simon Stålenhag's narrative art book The Electric State. Muschietti is currently negotiating to direct the film. If it all works out, the Russo Brothers will produce along with Muschietti and his production partner Barbara Muschietti, with Mike Larocca serving as executive producer.
The Electric State comes from writer, concept designer and artist Simon Stålenhag. The book isn't your traditional science fiction novel, but rather a narrative art book that tells its story through several stunning images created by Stålenhag. The Kickstarter page that Stålenhag used to help build the book has a trailer to give you a better idea of the scope of the images, which you can watch below.
Here's the official The Electric State synopsis:
In late 1997, a runaway teenager and her yellow toy robot travel west through a strange USA, where the ruins of gigantic battle drones litter the countryside heaped together with the discarded trash of a high tech consumerist society in decline. As their car approaches the edge of the continent, the world outside the window seems to be unraveling ever faster as if somewhere beyond the horizon, the hollow core of civilization has finally caved in.
Christopher Markus and Stephen McFeely, who have worked with the Russos on Captain America: The Winter Soldier, Captain America: Civil War and Avengers: Infinity War, will write the screenplay. Regarding the film adaptation, the Russos told Deadline, "The opportunity to partner with inspirational talents like Simon, Andy, Chris, and Steve is exactly the reason we started our company. We can't wait to help this team create something special."
This project shows a lot of promise. Stålenhag's images are stunning and could easily be translated into film, and It proved that Muschietti is a director to pay attention to. Hopefully, with the backing of the Russos, the filmmaker will be able to fully realize the scope and vision of the book and create a truly memorable science fiction film.