'Kill Or Be Killed' Movie Coming From 'John Wick' Director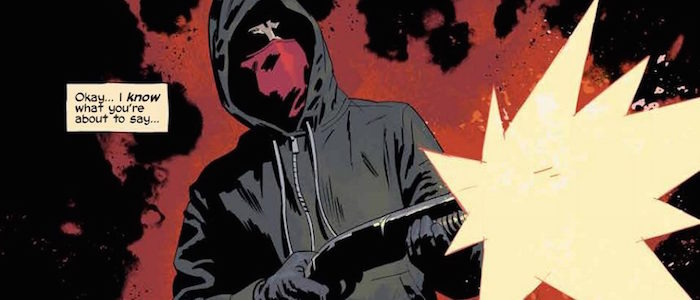 We may receive a commission on purchases made from links.
Here's a match made in heaven. Or rather, given the grim subject matter here, a match made in hell. John Wick and John Wick: Chapter 2 director Chad Stahelski will bring the comic book series Kill or Be Killed to the big screen, and I've never been more excited to tell you to avoid as many details about a project as you possibly can.
The Hollywood Reporter has the news, reporting that Stahelski will re-team with John Wick producer Basil Iwanyk for the film adaptation of writer Ed Brubaker and artist Sean Phillips' grim, noir-soaked thriller series. Dan Casey, who wrote an un-filmed adaptation of Incognito, another Brubaker/Phillips series, will pen the screenplay.
Simply put, Kill or Be Killed is one of the coolest and most twisted vigilante stories I've encountered in years. The hero (or is he the villain?) at the center of the story is a young man who finds himself compelled to seek out and kill criminals, a mission that escalates as his targets grow bigger and the web around him becomes increasingly tangled. However, there's a hook to the series, revealed around the midpoint of the first issue, that made my jaw drop when I first read it – I had no idea this was what the series was actually about and it blew my brain right out the back of my skull. Even though it's not really a spoiler (THR sums it up succinctly and fairly in their article), I'm not going to mention it here and instead suggest you go buy the ridiculously cheap first volume of Kill or Be Killed so you can read it for yourself.
Stahelski is still riding high from John Wick: Chapter 2, the best action movie of 2017 and one of the most confidentially staged and imaginative action movies...of all time? Yeah. Sure. It's true. He's currently in the middle of pre-production on John Wick: Chapter 3 and he has a remake of Highlander on his plate, so it's not clear when he'll get around to Kill or Be Killed.
When he does get around to it, this presents an incredible opportunity. Stahelski, a former stunt performer and stunt coordinator, has a flair for action that few others in Hollywood can touch. However, the action of Kill or Be Killed is a far cry from the slick and polished gunplay and beatdowns of John Wick – it's nasty and brutal, violence carried out by a desperate amateur who is making up this vigilante stuff as he goes along. In some ways, it reminds me of Jeremy Saulnier's Blue Ruin, a revenge movie where the hero is borderline incompetent when it comes to actually getting revenge. Stahelski will have to shift gears in a major way, and I'm excited to see him operate on a different playing field.
Since Kill or Be Killed is still a few years away (at least), take this time to rewatch the John Wick movies. They're great. And also go read previous collaborations between Ed Brusker and Sean Phillips, including Criminal, Fatale, Incognito, and The Fade Out. You won't be disappointed.