'The Simpsons' Predicted Disney Would Buy Fox Two Decades Ago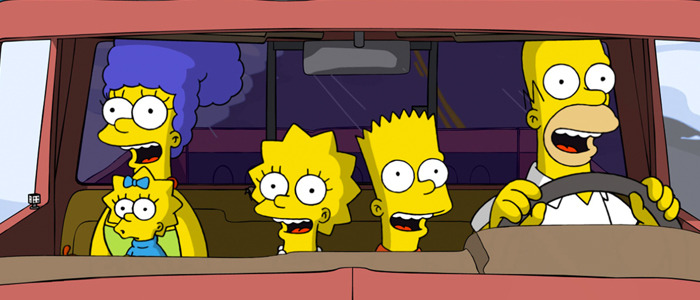 Today, it was officially announced that Disney would purchase key assets of 21st Century Fox for $52.4 billion. The fallout from this will be massive and could radically reshape the film industry as we know it. A lot of cool stuff could happen. A lot of bad things will probably happen.
But until we can see the shape of what's to come, we can only sit back and make jokes. Or rather, remember jokes that The Simpsons made nearly 20 years ago that predicted that Disney would buy Fox. Which means that The Simpsons predicted their future overlords.
Back in November of 1998, when the season 10 episode "When You Dish Upon A Star" initially aired, the writers of The Simpsons probably thought their throwaway joke about 20th Century Fox being "a division of Walt Disney Co." was a silly visual gag. You know a "Haha, that's ridiculous and it's never going to happen!" kind of thing. Well, when you've been on the air as long as The Simpsons (and have as many jokes per episode as The Simpsons), you're bound to get something right.
Ryan W. Meady supplied a screenshot of the gag on Twitter (via Mashable):
With the possibility of 20th Century Fox being sold to Disney, let me be one of the first to point out the Simpsons predicted it: pic.twitter.com/U1uN5VjiEp

— Ryan W. Mead (@rwmead) November 6, 2017
Of course, the Disney/Fox deal means that The Simpsons, the television show that essentially made Fox television a viable thing, now belongs to the Disney family. Which is weird! And I'm not sure how I feel about it! All I know is that I'm distressed enough about this whole deal to use too many exclamation points at the end of this sentence!!! However, legendary filmmaker and Simpsons executive producer James L. Brooks greeted the news with a pretty cute joke:
Simpsons say "hi" to Mickey with respect (he's a lot older than we are) pic.twitter.com/bD6wTZebas

— james l. brooks (@canyonjim) December 14, 2017
Still, there's a lot of mull over regarding this deal. While studios have merged before, the size and scope of this are unprecedented, and we'll be sorting through the details for weeks and months to come (look for more about this on /Film very soon).
Let's end with another eerie pop culture prediction. Disney being depicted as powerful, overwhelming force that devours everything in the entertainment industry has been a trope for a long time. As Vanity Fair's Katey Rich pointed out, the science fiction novel Cloud Atlas depicts a future where all movies are referred to as "Disneys" and theaters have been renamed "Disneyariums." Welcome to the future?