HBO Insists 'Big Little Lies' Belongs In The Golden Globes Limited Series Category, But Are They Right?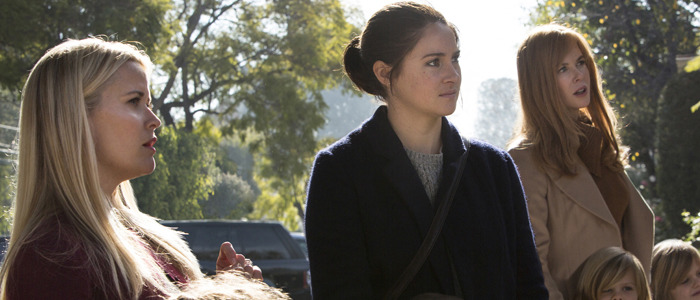 All award shows are, to some degree, kind of silly. But the Golden Globes may be the silliest of the bunch, largely because of their bizarre categorizations of certain movies that seem to defy rational thought. (The fact that they have an open bar probably factors in as well.) Look at Ridley Scott's The Martian being considered a comedy or musical, or this year's Get Out falling into that same category.
But there's some controversy brewing over Big Little Lies. While HBO's show, which starred Reese Witherspoon, Nicole Kidman, and Shailene Woodley, was one of the best things to air on television this year, there's some contention over whether it belongs in the Limited Series category since it was recently renewed for a second season. And now HBO has released a statement defending the Big Little Lies Golden Globes categorization. Read their statement below, and see if you think they have a valid point.
How do the Golden Globes work?
According to their official rules, here's how a film or TV show earns its categorization at the Golden Globes:
The studio or publicist submitting a motion picture or television program initially determines the award categories for which it is entered (e.g. drama v. musical/comedy or lead v. supporting). When the award entry period is completed, HFPA members review all entries to determine whether the initial entries were made in the appropriate award categories. The HFPA membership, voting by written ballot, may change any award entry by a vote of two-thirds or more of the members voting. Only members who have seen a motion picture or television program will be eligible to vote on appropriate award categories for that motion picture or television program and each member must certify in writing that he or she has seen each motion picture or television program on which they vote.
So it's not always necessarily the studio's fault when something like Get Out slips through the cracks into a weird category, because the voting body has the ultimate say in how a project is categorized. In the case of Big Little Lies, though, HBO is just fine with the show's current status.
The Controversy
Despite the show winning an Emmy for Best Limited Series, some critics aren't thrilled at the notion of Big Little Lies' placement in the Limited Series category for the Golden Globes since we now know it's coming back for season 2. But in a statement (via Variety), HBO defended that categorization by essentially saying that it was conceived as a limited series, so that's how it should be judged:
Big Little Lies was conceived, produced, and aired as a limited series. The implication of impropriety regarding HBO's awards submission of 'Big Little Lies' in the Limited Series category is irresponsible and uninformed. The idea to continue the story came about only after the show aired. None of the cast or filmmakers had holdover contracts. Each deal had to be renegotiated, which is proof that no ongoing series was contemplated. Additionally, no source material beyond Liane Moriarty's novel existed. The accusation that HBO was 'gaming the system' is baseless and undeserved.
Is HBO right about this?
So now the question is: does the network have a point?
Here are the official qualifications for a show to meet if it wants to be considered a Limited Series at the Globes, straight from the award show's website:
a. Two or more episodes with a total running time of at least 150 program minutes aired during the qualifying year.
b. Must tell a complete, non-recurring story.
c. A limited series that is aired over two consecutive years shall be eligible in the year in which more than half of the running time aired.
It's the "non-recurring story" part that sticks out to me, because season 2 is going to pick up with many of the same characters that we met the first time around. It's an ongoing story. But in an interview with The Hollywood Reporter, writer David E. Kelley also defended the choice by leaning on the show's intent from the beginning:
"We conceived a limited series and that's what we produced. It feels more right to me to reclassify going into the future than to go back and redefine what we were. I know what we were, and that's a limited series. Not only was the idea of a second season not contemplated when we began this journey, the idea was pretty prohibitive — one that we didn't consider, quite frankly."
While part of me understands Kelley's defensiveness, I think I still come down on the side of the critics who don't think this is the proper category for the show. Intention is always important to take into consideration, but at the end of the day, we have to judge a piece of art based on what it is, not what it was striving to be. And right now, Big Little Lies is the first season of an ongoing story, which means that it should clear out and make way for another show that's actually a limited series to get some recognition.
The Hollywood Foreign Press Association, the voting body for the Golden Globes, is infamous for nominating films with movie stars in them in the hopes that those stars will appear at the show so they can all rub shoulders with Hollywood's A-list. And don't forget that there are less than 100 members in their secretive ranks – far less than the thousands that make up the voting bodies for the Academy Awards or Emmys. So while this award show does actually have a bit of sway in the Oscar race and carries some public cache, it's important to remember that in the grand scheme of things, the Golden Globes is basically a way for a very small group of people to feel cool for a night when they hang out with celebrities. Nothing they do should be taken too seriously.