Look Upon This 'Woody Woodpecker' Trailer And Despair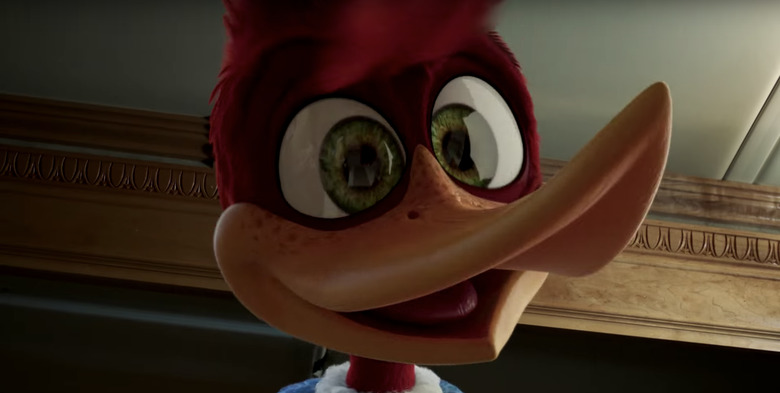 Woody Woodpecker, the cartoon bird who laughs a lot, went and got himself a feature-length film, and now the trailer has arrived to make us all question our very existence. This live-action comedy has Woody making life a living hell for human beings everywhere, like the mischievous elf Puck from A Midsummer Night's Dream. Also, there are poop jokes. Watch the Woody Woodpecker trailer below.
Foolish mortals, what have you done? What ancient, cursed tome have you cracked open to unleash the unspeakable terror that is this Woody Woodpecker trailer? You remember Woody Woodpecker, right? He was a cartoon bird who was prone to uttering a repetitive, mocking laugh, chilling the blood of all who heard it. Someone, somewhere, watched that cartoon and said, "Let's make that a movie." And here we are.
Woody Woodpecker trailer
The Woody Woodpecker trailer opens with a guitar riff from Blink 182's "All The Small Things" and doesn't get much better from there. Woody buzzes around the film shredding clothes, stabbing his beak into faces and pooping on heads. Are we supposed to like this cretinous bird from the netherworld? Will no one rid us of this meddlesome woodpecker?
The Woody Woodpecker movie follows "the hyperactive red-headed bird [as he] enters a turf war with a big city lawyer wanting to tear down his home in an effort to build a house to flip." I guess I can sort of see where Woody is coming from here – I, too, would be upset if big city lawyers wanted to tear down the tree I live in. But does he have to poop on people? There's a lot of weirdness here, but the weirdest element is Woody himself. Even though this is a live-action movie, the filmmakers have kept Woody looking very, very cartoony. I suppose that director Alex Zamm and company wanted to keep the character's design true to his animated roots, but he sticks out here like a sore thumb. He doesn't so much look like a woodpecker as much as he looks like a resident of Who Framed Roger Rabbit's toon town that escaped into the real world.
Worth noting: Woody Woodpecker filmmaker Alex Zamm is the director behind the now-infamous A Christmas Prince, the film that Netflix shamed some of its users about watching:
To the 53 people who've watched A Christmas Prince every day for the past 18 days: Who hurt you?

— Netflix (@netflix) December 11, 2017
Voice actor Eric Bauza provides Woody's shrill dialogue, and the rest of the cast features Timothy Omundson (Mission: Impossible III), Jakob Davies, Thaila Ayala, Graham Verchere (Fargo), Jordana Largy, and Emily Holmes (The Shack).
Woody Woodpecker was already released in Brazil on October 5, 2017, but American audiences will have to wait till next year, as the film arrives on DVD and digital on February 6, 2018.