Fan Trailer Imagines What 'Star Wars' Would Look Like If It Stuck Closer To Ralph McQuarrie's Concept Art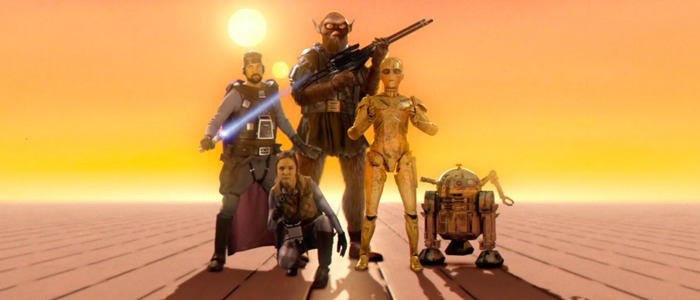 Artist Ralph McQuarrie is arguably as responsible for the look of Star Wars as George Lucas himself. McQuarrie's original designs and concept art shaped not only Lucas's original movie, but multiple films and TV projects throughout the franchise's storied history. McQuarrie passed away in 2012, but his influence on the world of science fiction will live forever.
A group of students at DAVE, the digital animation and visual effects school in Orlando, Florida, took McQuarrie's iconic original artwork and brought it to life in the form of a live-action fan trailer, and the results show what Star Wars might have looked like if Lucas and his team had incorporated every aspect of McQuarrie's art instead of just using them as a starting point. You've gotta check this out.
Star Wars Ralph McQuarrie trailer
A long time ago in a galaxy far far away... we might have seen a version of Star Wars that featured a Han Solo with green skin and gills, Stormtroopers with lightsabers, and a female heroine named Luka Starkiller.
Many of these anomalies can be seen in concept artist Ralph McQuarrie's early illustrations of the Star Wars universe. While looking back at these early paintings we can't help but wonder what Star Wars would have been like had it remained loyal to the concept art and early drafts of the script.
The DAVE School graduating class of August and October 2017 have answered that question by bringing Ralph McQuarrie's paintings to life in a concept trailer for what might have been...The Star Wars.
Impressive, right? While the production elements might look a little goofy during filming (is that one guy wearing a Thor costume?), it all comes together in the final product to almost perfectly mirror McQuarrie's original artwork. (Thanks to io9 for the heads up.)
The Star Wars takes a page out of The Disaster Artist's playbook as well: it shows you an interpretation of something, and then as the credits are rolling, it shows you a comparison between that interpretation and the actual thing that inspired it. Plus, it doubles as a visual effects breakdown video, showing us the individual elements and composites that went into the creation of each recreation. Very cool.
McQuarrie's influence continues to impact today's Star Wars filmmakers. In addition to J.J. Abrams bringing his art to the big screen in The Force Awakens and McQuarrie's rendition of the Darth Vader design finding its way into Star Wars Rebels, Ron Howard even threw a McQuarrie shout-out into the upcoming Solo: A Star Wars Story. I suspect directors will be taking inspiration from those incredible concept art drawings for as long as Star Wars exists...which may very well be forever.