'Laddie' Trailer: Meet The Man Who Made 'Star Wars' Possible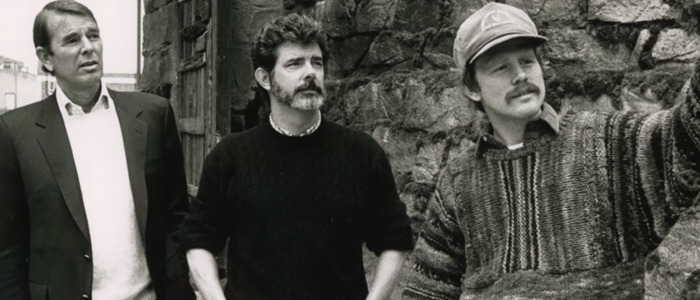 George Lucas will forever be the father of Star Wars, but you might have never heard of the guy who actually gave Lucas the freedom to actually execute his wild vision and ultimately change the world. That man's name is Alan Ladd, Jr. – better known as "Laddie" to his friends – and now a new documentary dives into Ladd's storied career as an agent, producer, executive, and studio head, where he worked on movies ranging from Blade Runner to Young Frankenstein. Check out the Laddie trailer below.
Laddie trailer
As you can see, this isn't just a paint-by-numbers depiction of an unsung Hollywood maestro: there's a personal aspect to this movie, since it hails from Ladd's daughter, filmmaker Amanda Ladd-Jones. And there's a bit of star power involved here too: she sat down with people like Ridley Scott, Morgan Freeman, and Sigourney Weaver to talk about their interactions with her father. (Hat tip to StarWarsUnderworld for pointing us to the trailer.)
Ladd may not have been able to predict the astronomical success of Lucas's sci-fi throwback (who possibly could have?), but when he was at Fox, he saw potential in Lucas where others didn't. Lucas would later say that Ladd "invested in me, he did not invest in the movie," and Ladd's foresight is ultimately the reason fans have spent the past forty years celebrating stories from a galaxy far, far away.
In addition to his Star Wars contributions, Ladd produced movies like Alien, Chariots of Fire, Thelma and Louise, The Omen, and Gone Baby Gone. The trailer calls him "the most influential movie executive you've never heard of," and while I have heard his name before, I definitely didn't realize the breadth of his accomplishments in the industry, so it'll be fascinating to learn about his career through the lens of those close to him.
LADDIE: The Man Behind the Movies is the story of a daughter's journey to see her father not just as "Dad"— the man whose success and endless hours devoted to work loomed large over her childhood—but the way his collaborators do—as a doyen of modern American cinema.
Through interviews with George Lucas, Ridley Scott, Sigourney Weaver, Ben Affleck, Ron Howard, Morgan Freeman, Mel Brooks, Richard Donner, and more, Amanda Ladd-Jones endeavors to better understand her father, Alan Ladd, Jr. Known to all as Laddie, he is the understated studio chief and Oscar-winning producer behind such films as STAR WARS, ALIEN, BLADE RUNNER, CHARIOTS OF FIRE, POLICE ACADEMY, BRAVEHEART, THE OMEN, THELMA AND LOUISE, YOUNG FRANKENSTEIN and GONE BABY GONE, whose intelligence, kindness, and unflagging faith in the people he hired turned him into one of the most successful movie moguls in Hollywood history.
Laddie doesn't have a distributor or release date yet, but you can check out its official Facebook page for more information.