'Nutcracker And The Four Realms' Reshoots To Be Directed By Joe Johnston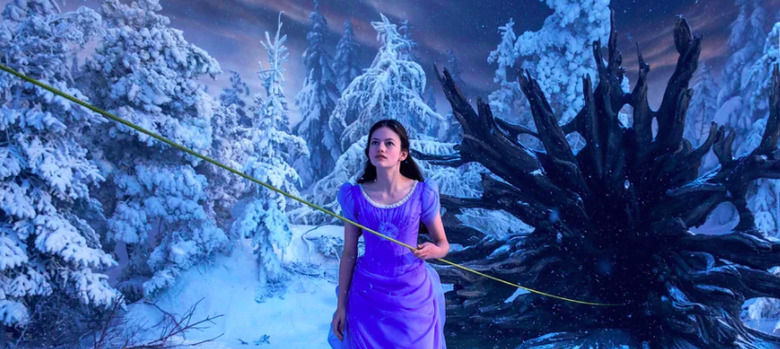 The Nutcracker and the Four Realms is almost finished baking, but it needs a little extra sugar before it makes its way to theaters. Like any big-budget tentpole that relies heavily on CGI effects, there are significant reshoots planned for Disney's adaptation of the E.T.A. Hoffmann fairytale and Tchaikovsky ballet.
However, because the film's original director Lasse Hallstrom is unable to complete them due to scheduling issues, Disney has brought on Joe Johnston, the director of The Rocketeer, Jumanji, and Captain America: The First Avenger.
The October Sky director will helm the 32 days of additional photography for the fantasy film, which stars Mackenzie Foy, Keira Knightley, Helen Mirren, Morgan Freeman, and Misty Copeland.
While this is unusual, The Hollywood Reporter reports that this is not a case of original director Lasse Hallstrom being sidelined in favor of Johnston – the new director is taking over for reshoots because Hallstrom was unavailable due to scheduling conflicts. Commonly, reshoots are penciled into the production calendar so that all cast and crew would be available for them, but perhaps the effects-heavy nature of The Nutcracker and the Four Realms threw Hallstrom, who often directs more subdued dramas like Chocolat, Cider House Rules and What's Eating Gilbert Grape, for a loop (or we're just being sold a bill of goods as Disney tries to cover its butt as it whips the film into shape). THR reports that Hallstrom will still participate in the post-production of the film.
"The film is in very good hands in London while I'm away," Hallstrom said in a statement to THR. "I will return to postproduction after the holidays."
A well-known and well-liked journeyman director, Johnston has directed beloved family films like The Rocketeer and Honey, I Shrunk the Kids. He's set to helm the next Chronicles of Narnia film, The Silver Chair, which will be a soft reboot of the film. However, after he completes The Silver Chair, Johnston announced that he will retire, putting an end to a long and distinguished career. But it seems that Johnston's impending retirement has temporarily been put on hold — the Nutcracker reshoots will surely pull him away from developing The Silver Chair, whenever that happens.
Here is the very brief synopsis of The Nutcracker and the Four Realms:
A young girl is transported into a magical world of gingerbread soldiers and an army of mice.
The Nutcracker and the Four Realms is set to waltz into theaters on November 2, 2018.