'Lady Bird' Lost Its Perfect 100% On Rotten Tomatoes, Thanks To One Reviewer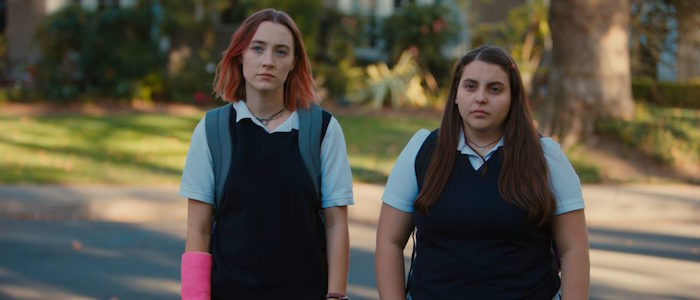 Lady Bird is no longer the best-reviewed movie on Rotten Tomatoes — that title goes back to 1999's Toy Story 2. And it's because one measly review brought the gorgeous coming-of-age movie down from 100% to 99%.Lady Bird received its first "rotten" review on Monday from film critic Cole Smithey. Smithey posted his negative review of the film on his own film website on December 10, stating that Lady Bird is "far from a perfect film."
"There are dozens of coming-of-age films that far outweigh this lightweight contender," Smithey writes on his website, which flashes the tagline "The smartest film critic in the world" at the top of the page. "Think 'Kes' or 'Murmur of the Heart.' Greta Gerwig has a long way to go as a filmmaker before she can pretend to approach a Mike Leigh or a Louis Malle."
Funnily enough, Smithey actually gave Lady Bird a "B-" — not an overly negative review by any means, but apparently enough for Rotten Tomatoes to tilt the scales and push Lady Bird down to 99%. However, Erik Davis from Fandango later clarified that it's the writer who assigns the "fresh" or "rotten" score, not the aggregator website. So it appears that Smithey — who has in the past marked all of his "B-" reviews as "fresh" — went out of his way to change the Lady Bird score.
No, the critic decides if their review is Rotten or Fresh in many situations. In cases where RT curates the review, they will ask the critic if it's not clear from their review whether it is F or R.

— Erik Davis (@ErikDavis) December 12, 2017
Smithey is evidently a very particular film critic, having notably given both Dunkirk and Wonder Woman an "F" earlier this year. He's no Armond White, who has gained reputation over the years as the industry's most contrarian critic, but maybe he aspires to be.
Lady Bird had previously set records for the best-reviewed movie on the aggregator site after it received 196 "fresh" reviews, the highest number of positive reviews on the site. With its 99%, it leaves the exclusive club of films that boast a 100% rating with over 100 reviews, a club that includes Things to Come, Man on Wire, and Toy Story 2.
This week has been a mixed bag for Greta Gerwig's acclaimed directorial debut. Lady Bird landed four Golden Globe nominations earlier this week, including best actress, supporting actress, best musical or comedy, and best screenplay. However, Gerwig was noticeably, unjustifiably snubbed for best director. It follows an unfortunate trend for Lady Bird, as the film wins accolades at ceremonies like the Gotham Awards and the Independent Spirit Awards for all of its aspects except Gerwig's direction. But universal acclaim and strong box office paint a picture of a movie that will have legs. Because Cole Smithey got at least one thing right: Gerwig has a long way to go. And we can only imagine how good she's going to get if this is where she's starting.