'Mary Queen Of Scots' First Look: Saoirse Ronan And Margot Robbie Get Royal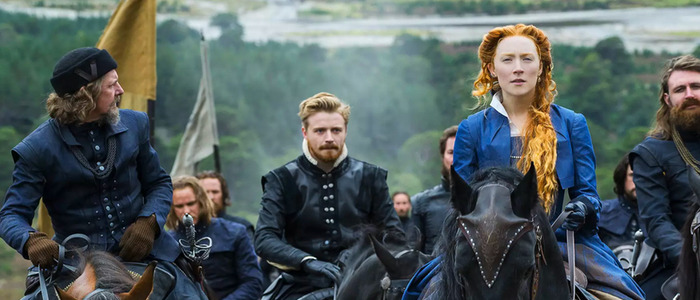 Saoirse Ronan and Margot Robbie, two actresses at the top of their game right now, are teaming for the lavish historical costume drama Mary Queen of Scots. The upcoming film from director Josie Rourke finds Ronan playing the Queen of Scots herself, while Robbie plays her cousin, Queen Elizabeth I. Historical spoiler alert: the relationship between these two blood relatives is less-than-cordial. A Mary Queen of Scots movie first look reveals Ronan and Robbie in-character.
Saoirse Ronan is gearing up for yet another awards season where she has to tell everyone how to correctly pronounce her name. The Lady Bird actress won't be in the race alone: she's likely to face-off for a Best Actress Oscar with Margot Robbie, who is sure to net a nom for her performance in I, Tonya. Beyond awards season, the actresses will come together again for the period drama Mary Queen of Scots. Entertainment Weekly provided an official Mary Queen of Scots first look that finds both Ronan and Robbie looking fabulous.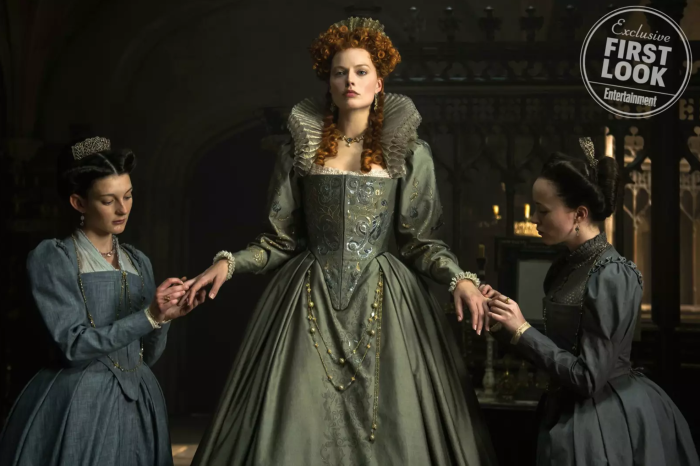 In the first image, we have Robbie looking icy yet regal as Elizabeth I, aka the Virgin Queen. The monarch ruled for 45 years, and has appeared in multiple dramas in the past, including the 1998 film Elizabeth, featuring Cate Blanchett in the role. Here, Robbie's Elizabeth finds her claim to the throne of England being challenged by her cousin, Mary Stuart, played by Ronan. Which brings us to the next image.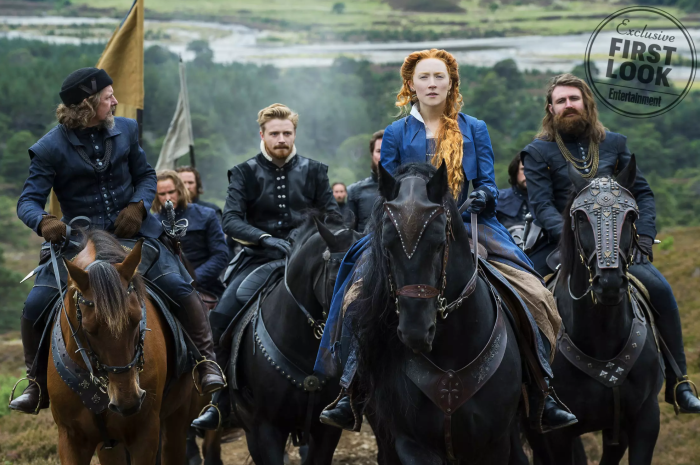 Saoirse Ronan wearing a wig and riding a horse – what more do you want, folks? Mary Queen of Scots has Ronan's Mary returning home to Scotland from France after the death of her husband. Mary's arrival causes conflict with Elizabeth, and multiple factions work behind the scenes to keep one of these women in power while taking down the other.
"Everyone manipulated their relationship," Robbie says in the EW piece. "It's complicated, it's tragic, and it's bizarre. The only other person in the world who could understand the position they were in was each other."
While history has Elizabeth as the victor of this skirmish, this film's title suggests the story will be taking Mary's side, although director Josie Rourke says "It's not one against the other. It's both of them against a particular environment that pitted them against each other."
I'm intrigued by this film. Ronan and Robbie are both phenomenal actresses, and I'm a sucker for a good costume drama. Part of this story was touched on in the Elizabeth sequel Elizabeth: The Golden Age, but that film was a major disappointment. Perhaps this film will handle the material better.
Mary Queen of Scots' story comes from someone who knows a thing or two about political intrigue: House of Cards creator Beau Willimon has penned the script, adapted from the biography My Heart Is My Own: The Life of Mary Queen of Scots by John Guy. Mary Queen of Scots will hit theaters November 2, 2018, just in time for yet another awards season where Saoirse Ronan politely tells everyone how to pronounce her name (just remember: it's Ser-sha, like "inertia").