Millennials Are Still Going To The Movies This Holiday Season, Enjoy Reclining Seats (And Avocado Toast)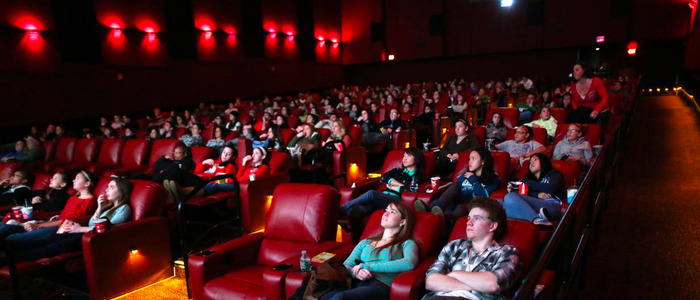 Those dang millennials, let me tell you. As I've been told by numerous think-pieces, they're killing off everything, checking their phones too much, and riding their roller blades all over the town. But here's one old fashioned thing millennials are still interested in: going to the movies. At least during the current holiday season. A new study by Fandango reveals that those crafty, hard-to-pin-down millennials are planning to flock to multiplexes to take in new films like Star Wars: The Last Jedi and Jumanji: Welcome to the Jungle.
It seems that every other month we're treated to a new article about a particular industry "millennials are killing." It's as if these youngsters born between the 1980s and the early 2000s have no use for (insert whatever pet cause you think millennials are responsible for the decline of here, reader). But here's one industry that millennials are still interested – at least for the holiday season: movies! While attendance might be down as theaters compete with the ever-growing world of streaming, a new study by Fandango found that millennials, that is to say customers between the ages of 18 to 34, are planning to ask their moms for rides to the movies in droves this holiday season (per Variety).
"It's always the hot topic. Are younger people still going to the movies? Are they still interested in leaving the house and doing something other than streaming movies? Based on this data they are," said Fandango SVP and head of marketing and communications Adam Rockmore.
Per the study, these five studio films seem to be drawing the most millennial heat:
1. Star Wars: The Last Jedi
2. Jumanji: Welcome to the Jungle
3. Pitch Perfect 3
4. The Greatest Showman
5. Downsizing
But millennials aren't only interested in big studio flicks; they contain multitudes. There are also five indie films that they're interested in taking in this holiday season:
1. The Shape of Water
2. The Disaster Artist
3. Lady Bird
4. Three Billboards Outside Ebbing, Missouri
5. I, Tonya
Fandango asked millennials what helped them decide to pick a particular movie, and here were the results: "47% decide to watch a movie because of a strong storyline, 23% pick what movie to see based on its trailer, 9% weigh reviews or critic scoring rating sites such as Rotten Tomatoes or Metacritic, 5% look to user reviews, and 5% identify the stars as the main reason to buy a ticket." Those low percentages for Rotten Tomatoes throw a bit of a wet blanket over movie studio claims that Rotten Tomatoes reviews are hurting their business.
The study also delved into  the amenities that would draw millennials to theaters: 65% said that those fancy reclining seats were their favorite amenity, and 56% claimed large screen formats like IMAX helped draw them to theaters. Overall, this study seems to adhere to the age old adage: if you build it, they will come. So next time you read one of those ridiculous think pieces bemoaning the industries that "millennials are killing," just remember that all it takes to draw people my age are things like reclining seats.