'Creed 2' Gets A New Director In Steven Caple Jr., Will Hit Theaters In 2018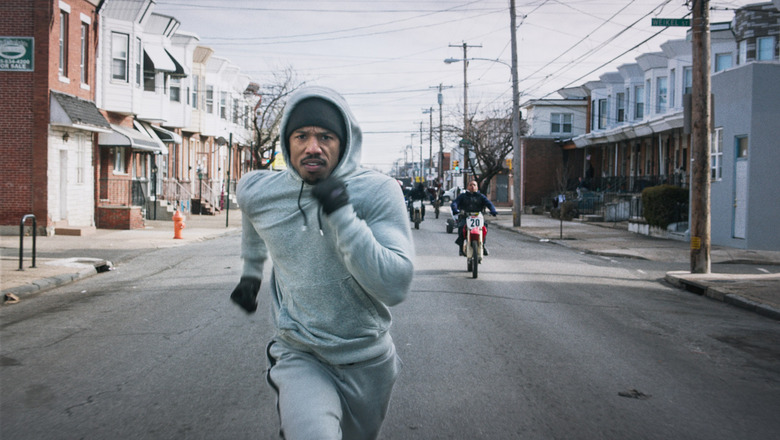 A few months ago, Sylvester Stallone revealed on his Instagram page that he would be directing Creed 2, the follow-up to Ryan Coogler's acclaimed Rocky spin-off from 2015. The silence that followed was deafening and now it seems like we know why – he's not directing it. In fact, a brand new director whose name and work you probably don't know is stepping behind the camera.
Variety reports that Steven Caple Jr. will direct Creed 2, with production set to begin early next year. No release date was announced, but leading man Michael B. Jordan took to Twitter and teased November 2018.
Excited for Coogler to hand over the reins to Steven Caple, Jr. – our director for Creed 2! Can't wait to bring you guys the next chapter of our story ... coming at you November 2018. 👊🏾👊🏾 #Creed2

— Michael B. Jordan (@michaelb4jordan) December 11, 2017
In addition to Jordan returning as Adonis Creed, the sequel will also see the return of Stallone as aging boxer Rocky Balboa and Thor: Ragnarok star Tessa Thompson as Bianca, the love interest from the first movie. Stallone also co-wrote the screenplay with Luke Cage showrunner Cheo Hodari Coker.
The hiring of Capel mirrors the hiring of Coogler, who landed Creed on the strength of his first feature film, the critical darling Fruitvale Station. Capel only has one feature film to his name, the 2016 indie The Land, but Variety reports that the coming-of-age tale was instrumental in him landing the job. Coogler is still involved in the sequel as an executive producer (he's currently committed to finishing Black Panther for Marvel) and it's refreshing to see another person of color continue the story of Adonis Creed. While Creed functioned as a Rocky sequel, it was proudly black, never shying away from the title character's skin color and the world he inhabits. While Stallone directing would've pleased some Rocky fans, a fresh newcomer who can directly continue what Coogler started feels like a better fit.
Speaking of Stallone directing, Variety's article notes that the legendary actor did consider helming the sequel but ultimately decided to bow out after conversations with Jordan and others involved in the film. It's easy to imagine these conversations involved everyone believing that a black director was the right choice to continue the series. They could have also involved other reasons Stallone has been in the headlines recently. In either case, this feels like the right choice.
Production will begin on Creed 2 in Philadelphia in March. Plot details remain under wraps, but Stallone has spoken before about bringing back Dolph Lundgren's Ivan Drago, the Russian villain from Rocky IV (and the man who killed Adonis Creed's father, Apollo Creed). What we do know for sure is that Creed is one of the best sports movies of the millennium so far, so, you know, no pressure guys.