'Stranger Things' Season 3 Might Not Debut Until 2019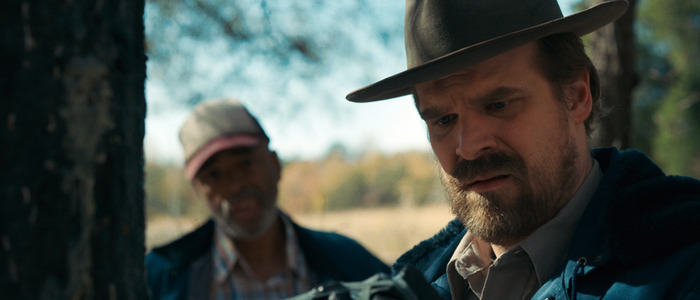 It's no longer strange to hear that an acclaimed show might be taking longer to come back than anticipated. Game of Thrones pushed back its final season by a year. Westworld's second season was delayed for nearly two years. Now, Stranger Things season 3 may not see the light of day until 2019.
Netflix quickly renewed its flagship genre series for a third season, but it turns out that Stranger Things 3 is slow going. Showrunners Matt and Ross Duffer are reportedly still working on scripts for the third season, Stranger Things star and recently nominated Golden Globe actor David Harbour told Variety. That pushes the show's production start to April 2018, which means that we likely won't see Netflix's crossover hit until early 2019.
"Like any good thing. [Ross and Matt] need time. And those guys work so hard. I mean, they just sit in their apartment and write for 12, 14 hours a day."
Stranger Things was a breakout hit for Netflix in 2016, becoming a bonafide pop culture phenomenon that turned the child actors into stars and Harbour into a superhero. It also gave Winona Ryder that well-earned comeback. The Duffer brothers turned what was intended to be an ambitious anthology series into the sleeper hit of the decade, so you can't fault them for wanting to live up to expectations — though it's arguable whether season 2 managed to do that.
Thankfully the longer wait won't grind anyone's gears like the first season's cliffhanger ending, but it does bring into question the show's rapidly aging cast. By the time the third season does start shooting, the kid actors will be a whopping two years older, with the oldest Caleb McLaughlin pushing 18 and the youngest members Millie Bobby Brown and Noah Schnapp already ready to enter high school at 14. Quality beats quantity, for sure, but nothing beats puberty.
For now, Stranger Things seasons 1 and 2 is available on Netflix. To bide the time, you can rewatch it every day until 2019 — Netflix knows that you already do.