The 'Venom' Movie Will Be Based On These Two Comic Book Storylines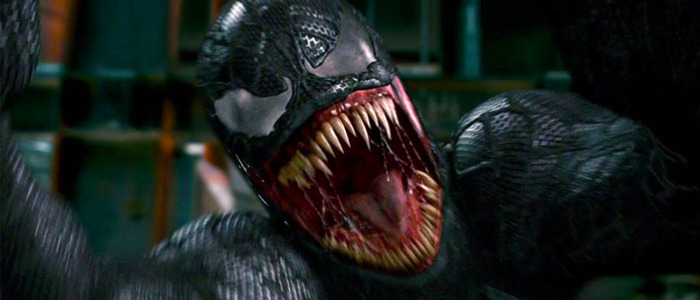 Venom, the movie that is definitely real and not an elaborate early April Fools' hoax, will be based on some very real comic book storylines.
Director Ruben Fleischer has the unenviable task of bringing the popular Spider-Man antihero to the big screen, sans Spider-Man. Thankfully, he has a plethora of Venom comic book arcs and issues to draw from. But no one Venom storyline will do — he's going to adapt two.
There's a lot of pressure on Fleischer to not only deliver a good Venom movie — which boasts a star-studded cast of Tom Hardy, Michelle Williams, and Riz Ahmed of all people — but to also kick off Sony's Spider-Man-adjacent cinematic universe. That's a difficult enough job to do even before you consider that most of Venom's best comic book arcs involve Peter Parker in some form.
To assuage fans' confusion, Fleischer and Hardy appeared via satellite at Sony's Comic-Con panel in Brazil to speak about Venom and what comic book arcs they'll be drawing from for inspiration. Collider reported that those comic book runs are Lethal Protector and Planet of the Symbiotes.
A refresher course: Venom: Lethal Protector was a 1993 limited series by David Michelinie with art by Mark Bagley, Ron Lim, and Sam DeLarosa. This was the series that marked Venom's turn from ambiguous villain to full-fledged antihero, with Eddie Brock's Venom striking a deal with Peter Parker to leave each other alone before embarking to San Francisco. There, Venom ends up teaming up with Spider-Man to defeat five new offspring of the Venom Symbiote: Scream, Phage, Riot, Lasher, and Agony.
In Planet of the Symbiotes, published two years later and penned again by Michelinie, Earth is invaded by an army of symbiotes, forcing Venom, Spider-Man, and Scarlet Spider to team up to stop them and investigate a series of murders that Venom believed himself to have committed. Carnage makes an appearance too, bonding with released serial killer Cletus Kasady.
It's already clear where these comic books storylines inspire Venom based on the vague details that we've learned about the movie. Hardy confirmed that the Venom movie will be set in San Francisco, so we can expect the premise to begin akin to Lethal Protector, while it's been rumored that Carnage will be the film's main villain. I remain skeptical that this movie will exist and isn't a big prank, but after looking into the elements they're pulling from the comic books, these crazy kids just might be able to pull this off.
The cast of the Venom movie is rounded out by Reid Scott, Jenny Slate, and Scott Haze. The script is penned by Scott Rosenberg, Jeff Pinkner, and Kelly Marcel. Avi Arad and Matt Tolmach are producing the movie, along with Amy Pascal.
Venom is set to hit theaters on October 5, 2018.