'Star Wars: The Last Jedi' Featurette Focuses On The New Worlds Of The Latest Saga Sequel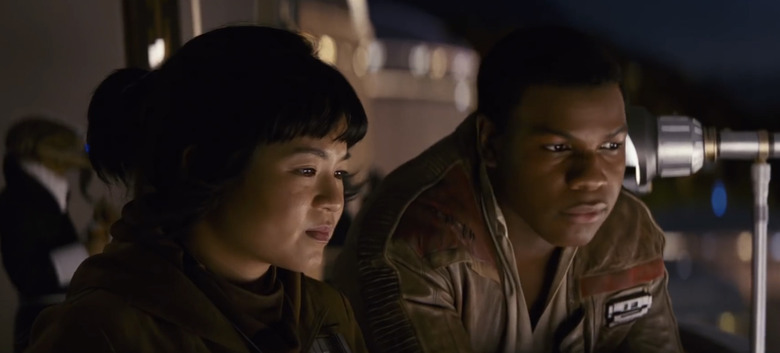 We know that the official TV spots for Star Wars: The Last Jedi are starting to show a little too much from the next sequel in the iconic sci-fi saga. But you can trust that the film's featurettes being released through the official Star Wars channel on YouTube are keeping secrets safe and sound while also showing us some outstanding behind the scenes footage and brief snippets of clips from the movie.
A new Star Wars: The Last Jedi featurette puts a focus on the new worlds we'll encounter, specifically the casino city of Canto Bight and the planet Crait. There are quick shots of new footage on display, but absolutely nothing that will spoil any plot points for you, so don't worry.
Watch the Star Wars: The Last Jedi Worlds Featurette
There's nothing revealed as far as the story is concerned. However, we do see that there will be some kind of big action sequence on Canto Bight involving a certain creature we've seen in featurettes before. It looks like they tear through the city and create some destruction for the wealthier inhabitants of the galaxy who are just trying to avoid the conflict between the Resistance and the First Order.
Meanwhile, we see the stunning visuals created by the environment on the planet Crait. Action sequences that take place on this planet were shot on location in Bolivia in the middle of salt flats. There's a red mineral under a layer of salt flakes and dust, which is why we see large eruptions of red dust on the ground in the various shots we've seen on Crait. It certainly makes for a pretty landscapes amidst all the death and destruction.
Finally, we get a retread of Ahch-To, the planet where Luke Skywalker has secluded himself  on an island from the rest of the galaxy. There's not much to be seen there that we haven't caught already, but the location is rather beautiful.
Here is the official synopsis for Star Wars: The Last Jedi:
Rey develops her newly discovered abilities with the guidance of Luke Skywalker, who is unsettled by the strength of her powers. Meanwhile, the Resistance prepares to do battle with the First Order.
Star Wars: The Last Jedi is directed by Rian Johnson, and it features all-star cast rounded out by Mark Hamill, Carrie Fisher, Adam Driver, Daisy Ridley, John Boyega, Oscar Isaac, Andy Serkis, Lupita Nyong'o, Domhnall Gleeson, Anthony Daniels, Gwendoline Christie, Kelly Marie Tran, Laura Dern, and Benicio del Toro.Star Wars: The Last Jedi flies into theaters on December 15, 2017.